Maths resources for primary schools
Help make numbers make sense with ClickView's primary resources for Maths, including hundreds of videos and lesson plans.

Carefully chosen video can illuminate mathematical concepts, especially for young learners. With hundreds of curriculum-aligned educational Maths videos plus supporting classroom resources, a ClickView subscription gives you access to the latest and best content on demand.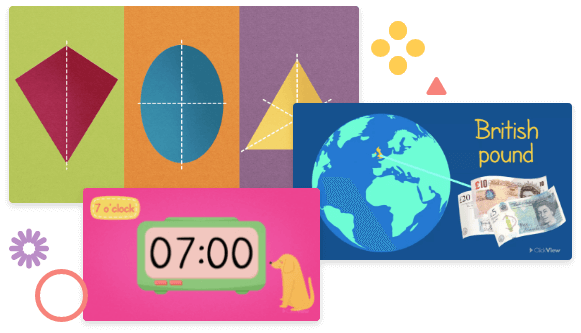 Free primary Maths videos to unlock deeper understanding
Video is a powerful tool for clarifying concepts or helping students revise for quizzes or tests. Interactive video lets you conduct class discussion to promote oracy and establish your students' level of understanding before beginning a new topic. Our most popular primary Maths videos are available free, for a limited time. Find out how you can create a deeper understanding of Maths in your classes through using targeted video.

For access to every ClickView video and supplementary teaching resources, such as lesson plans, start your free trial.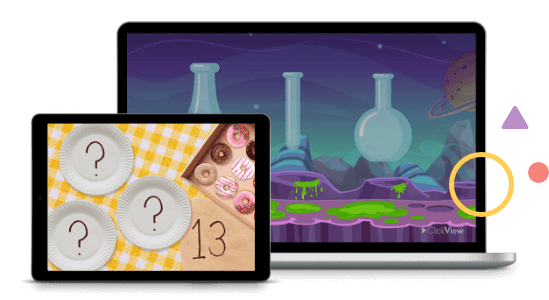 Uncover a huge range of curriculum-aligned primary Maths resources
Full ClickView access lets you view all videos and download the resource pack for any primary Maths video. These teaching resources, all aligned to the National Curriculum and Curriculum for Excellence, include lesson plans and various classroom activities, such as quizzes, to complement each video. Use them however you choose, by downloading and distributing them to students or adapting and embedding them into your LMS.
Lesson Plans
Benefits
Inspired class discussion
The Maths library contains all the very best curated educational content, from ClickView-produced series to feature films and Freeview TV content advert-free. Video can be used to prompt class discussion, clarify concepts or help students revise for tests or quizzes. Use it to support your teaching of the primary Maths curriculum, including 3D shapes, volume, angles and more.
An interactive approach
Interactive video helps you establish your students' level of understanding before beginning a new topic. By adding interactive question layers to any video in the library, you can track student progress through any Maths topic in your Key Stage 1 or Key Stage 2 classroom.
All videos rated for primary
It's important that you feel confident to share any ClickView video with your primary students. We've carefully classified each one for you, so you can be sure there's no inappropriate content included. Series such as Miniclips and Curriculum Karaoke have been designed specifically for younger students with fun animations, memorable characters and real-world examples.
Designed with subject experts
To make sure all our award-winning content aligns with the National Curriculum and Curriculum for Excellence, we work with an advisory team of subject experts. These educational consultants help develop resources to accompany each video, such as lesson plans and various classroom activities to enhance teaching and learning.