A Level teaching resources for lesson planning
How can schools best use ClickView for A Levels?
You can use ClickView in many different ways in planning lessons for your students whilst they prepare for A Levels. Deepen the learning experience with access to a wide variety of educationally impactful subject-specific video content. Select videos and use the supporting A level teaching resources to design lesson plans that will engage senior students in learning.
Lead A Level students in developing skills in independent learning, in preparation for further study at university. Strategies to teach these skills include:
curating scaffolded, subject-specific playlists
have students create their own video content for coursework or revision.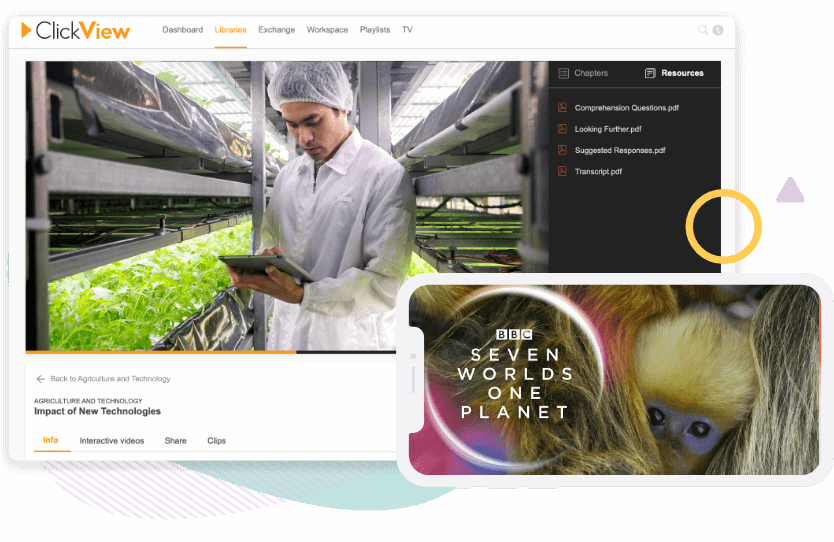 Even more A Level resources with the Exchange
The ClickView Exchange is home to a huge selection of curated films and TV programmes that further support learning and teaching. This includes the latest documentaries, drama series and news broadcasts from Freeview TV and European satellite channels.
Learn more about ClickView TV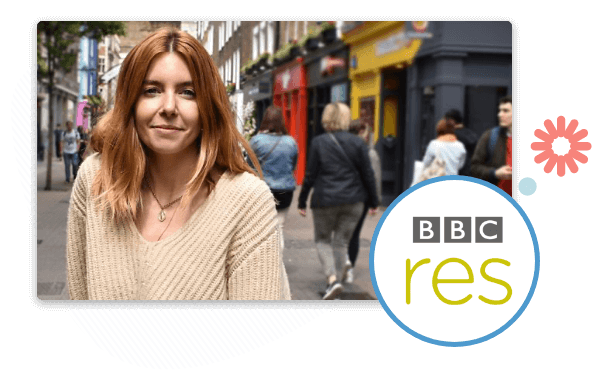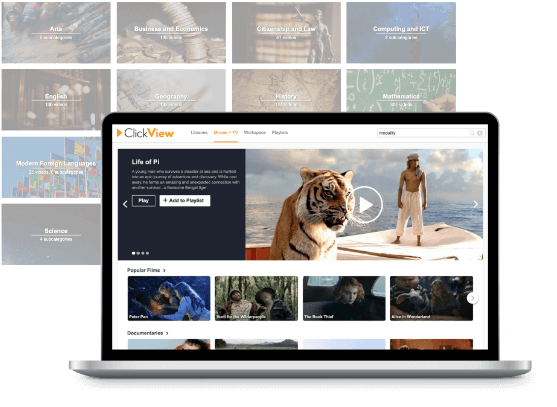 Using ClickView for the Extended Project Qualification
Use ClickView to support study of the Extended Project Qualification (EPQ) in the A Level curriculum. Once they've chosen their personal interest topic, you can:
Use the extensive ClickView content collection to drive initial background research.
Dive deeper into research by accessing contemporary and historical content from in-house produced content to programmes on the Exchange.
Create annotated videos throughout the process to track progress and understanding of topics
Enhance public speaking and presentation skills – and confidence – in preparation for final presentations by recording and watching it back.
Develop playlists of all relevant sources used as a video bibliography.
Free A Level video resources
Below are some of ClickView's most popular A Level videos and teaching resources, for free. Download the lesson resources and share the videos with your senior students.
ClickView for Psychology
Psychology Concepts is a video series for A Level Psychology that investigates stress as a psychobiological process.
The series looks at the causes of stress and how our perception of a situation impacts stress. The three videos explore the fight or flight response, plus the negative effects of prolonged stress. You'll see models of cognitive and physiological processes and learn the benefits of various strategies for managing stress.
Download lesson plan resources
ClickView for Geography
Powerful interviews and imagery make Understanding Malaria an impactful video series ideal for senior Geography students.
Including interviews with world-leading scientists and researchers, this three part series evaluates management strategies that have been used in the fight against malaria. It also explores advances in genetic engineering that provide hope that malaria may become a disease of history, plus broad-ranging effects of malaria on individuals, their families and the community.
Download lesson plan resources
ClickView for History
Bring history to life with Classical Antiquity. Using primary and secondary source materials, this series is an ideal accompaniment to senior Classical Studies and Ancient History courses.
Using devices such as diagrams and purposeful narration, the four videos in this series explores the historical and cultural significance of structures, sculptures, practices and pastimes in Ancient Greece and Ancient Rome. These include Athenian theatre, the Parthenon, chariot racing and Hadrian's Wall.
Download lesson plan resources
ClickView for Film Studies
In addition to hundreds of classic and contemporary film titles, Film Studies students can learn tricks of the trade from world-renowned filmmaker, Philip Bloom, in his Cinematic Masterclass series.
Through nine videos, students will discover the techniques of "lens whacking", slow motion photography and time lapse shots. They'll also get an overview of the essential kit required to shoot cinematic shots, camera settings and setup, plus post-production workflow. Bloom deconstructs composition and camera motion and shares advice on how to get the most out of interviewing subjects.
ClickView for Business & Economics
Real life case studies bring concepts to life in the Strategic Tools for Business series for A Level Business and Economics students.
This series introduces four valuable tools for businesses. The SWOT analysis can be beneficial for strategic planning. Adaptation and change is explored using Lewin's Force Field analysis. The PESTLE analysis looks at the impact of external factors and can be a helpful tool for decision-making. Finally, Porter's Generic Strategies is useful for evaluating business strategy.
Download lesson plan resources
ClickView for Chemistry
Senior Chemistry students will discover useful insights about nanotechnology in the Nanoparticles video series.
Nanotechnology has found its way into our homes and everyday lives. This three part series reveals the diverse applications of nanotechnology in our lives and its phenomenal future potential. It also looks at some of the risks of this emerging field of science and technology. A Level Chemistry students will find this series an invaluable learning resource.
Download lesson plan resources
ClickView for Science
Senior Physics and Biology teachers have high-quality resources on hand, with the following popular series titles.
The three part Nuclear Energy series presents the arguments for and against the use of nuclear power to produce electricity. It looks at how a nuclear power station works, fission and the nuclear fuel cycle. Students will learn other uses of nuclear energy, plus explore advanced topics, such as the use of water to vary reactor power, and different methods of mining uranium.
Download lesson plan resources
ClickView for English
You have a wealth of valuable A Level teaching resources at your fingertips to bring literary texts to life.
The five videos in the series, Shakespeare in Conversation: Macbeth, explore the historical context of the play, the relationship between Macbeth and Lady Macbeth and the literary devices and major themes of the play. Valuable insights from experts at the Shakespeare Schools Foundation make this series essential viewing for senior English students.
Download lesson plan resources
ClickView for Technologies
The Engineering Solutions series centres around three exciting case studies: the Deepsea Challenger life support sphere, Morph Wheels foldable wheelchair wheel, and Fliteboard electric hydrofoil. The three videos cover topics including design challenges and solutions, testing methods and selecting the best materials for a project.
Download lesson plan resources
Flexible ClickView access anytime on any device
Encouraging learning beyond the walls of the classroom, ClickView is available from anywhere on a range of devices. Using the app, users can create their own video content, upload and share it with their peers. They can catch up on revision or class preparation while travelling to and from school, even without a Wi-Fi connection. Both you and your students can easily create interactive videos that test understanding of subject content, by adding a layer of questions or annotations to any video.
Downloads and Integrations