Secondary
teaching resources
Curriculum-aligned videos
For secondary teaching resources to support you in each subject, ClickView is here to help. You'll find an extensive library of educational videos and resources aligned to the curriculum, alongside the best available free-to-air content.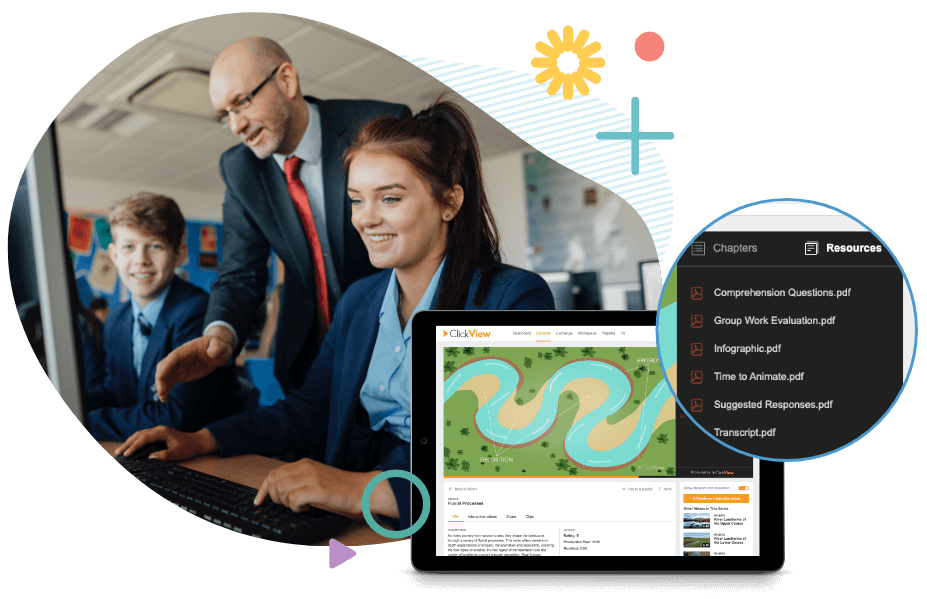 Benefits
Extensive choice
We frequently update our secondary video library with original curated content. Each month you'll see new releases pop up in the collection, all designed with you and your students in mind. A subscription is your all-access pass to ClickView's original content and content from the world's best publishers, plus ClickView TV and the Exchange, including BBC RES and The Shakespeare Archives. Find what you need for a flipped classroom, documentary experience or interactive student assessment in just a few clicks.
Curriculum-aligned confidence
To serve you and your students, we collaborate with a team of subject experts. Enjoy peace of mind knowing all our leading educational content is aligned with the National Curriculum and Curriculum for Excellence.
Educational resource support
Interactive videos are a useful tool for formative assessment. Use them to create quiz-based tasks to check and track the progress of your students. Create your own or use an existing interactive from the collection. You'll also find plenty of teaching resources, such as lesson plans, to support student assessment and save you valuable time.
Seamless integration
It's so easy to edit video content and share it with your classes or colleagues. ClickView also integrates with your school's existing VLE, including the ability to download, edit and embed accompanying resources. All our videos are carefully classified so you can show content with confidence in any class.
Access the entire platform from anywhere
You and your students can access our educational videos, content and resources from school, home, the bus, train or the tube – even when you don't have access to the internet. Learn more about remote learning with ClickView.
TV content for secondary
With ClickView TV, the latest secondary video resources are on hand. You can find programmes, news and documentaries relevant to your lessons that will engage your students.
Access TV recordings from Freeview and European satellite channels
We record 24 Freeview channels, as well as 8 European satellite channels from the past 28 days and make it available for you commercial-free to bring real world context and enrich your subjects.
Extra value with ClickView Exchange
Become part of a community of educators with access to over 20,000 of the best educational programmes from Freeview TV. ClickView schools and colleges can easily find, keep and use TV educational programmes, advert-free. Browse by category or topic or use subtitle search to find relevant and dynamic content quickly and easily.
Plan lessons with the ClickView TV Guide
The ClickView TV Guide means you don't miss the best educational content and there's no need to record it yourself. Browse the guide at any time to explore all educational programmes airing the next fortnight and then request your advert-free copy.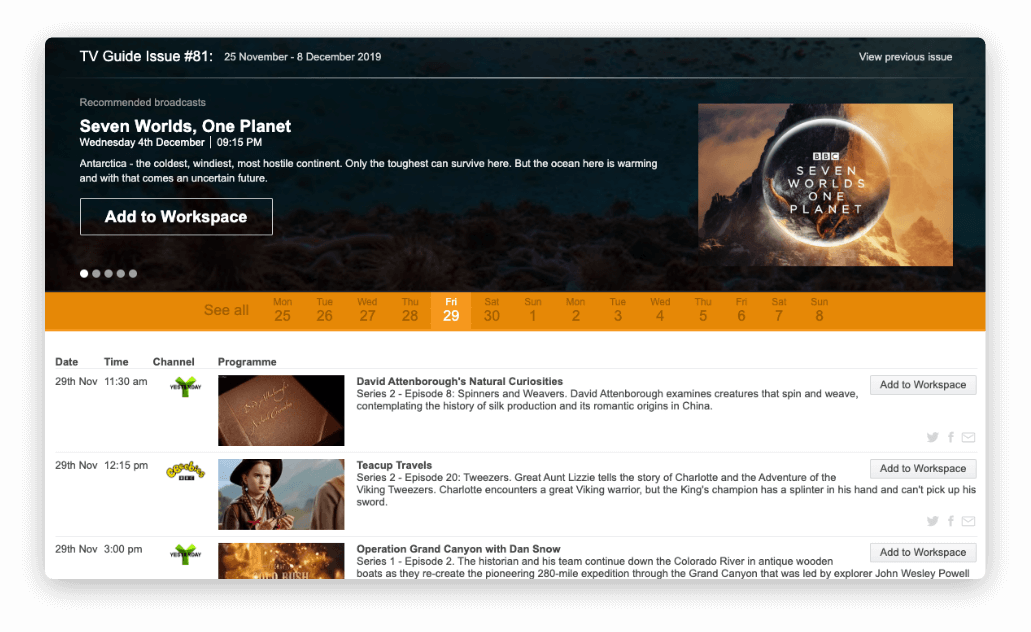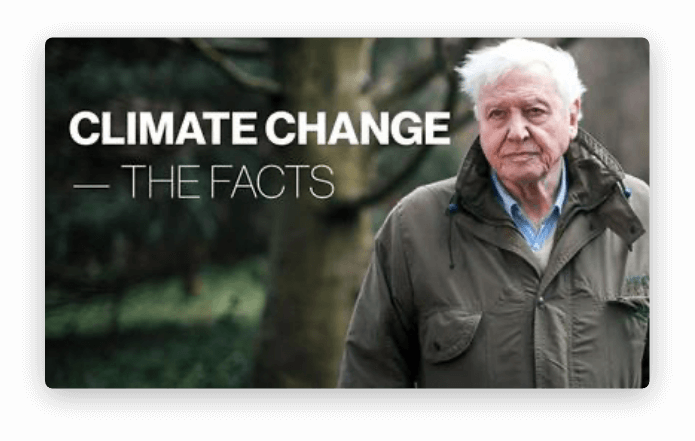 Formative assessment for secondary classes
ClickView interactive videos are valuable secondary teaching resources. Help your students to take learning further by considering what they are viewing, checking their understanding and reflecting on key learnings. Interactives are perfectly suited to homework, flipped and independent learning, and the development of oracy skills.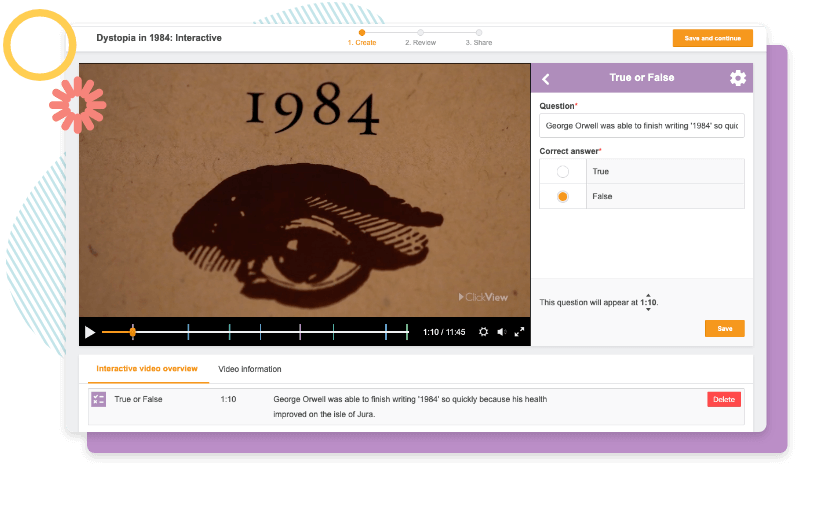 Maximising the benefits of interactive video
To take video watching from a passive to an active experience, you can add an interactive layer of inbuilt questions to any video. Choose from a range of different question types such as multiple choice, short answer or extended response. Once your students complete the questions, you receive detailed results to help you formatively assess your students.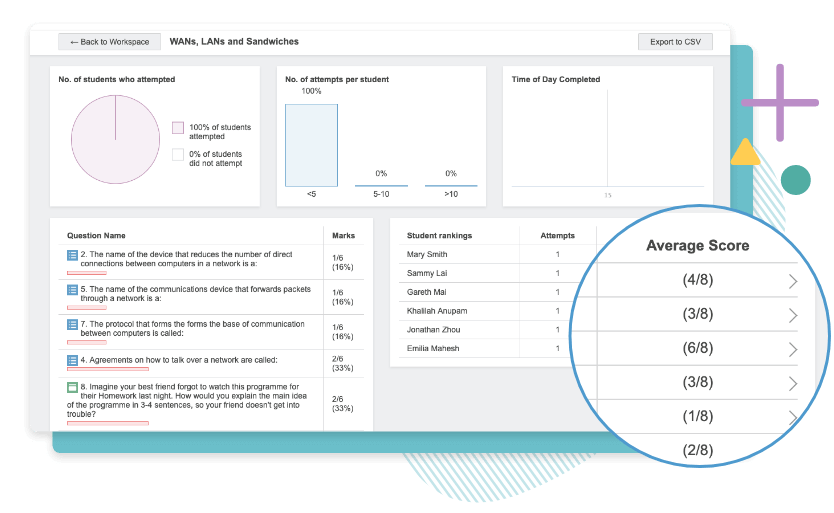 Measuring student success
Interactive videos help engage students in active learning, developing skills in higher order thinking and critical reflection. Built-in analytics give you detailed reports into student progress. These insights can help you to measure topic understanding and further target your teaching to boost student outcomes.
Powerful video platform for Multi-Academy Trust (MAT) schools
At ClickView, we support MATs with continuity and analytics across schools, while also enabling local schools to create their own needs-based resources.
Cloud-based shared libraries foster collaboration and reduce workload by:
Allowing groups of schools to centrally create, manage and share video resources, including interactives and banks of curriculum content.
Facilitating resource sharing by specialist teachers, such as formative assessment quizzes for pre-testing.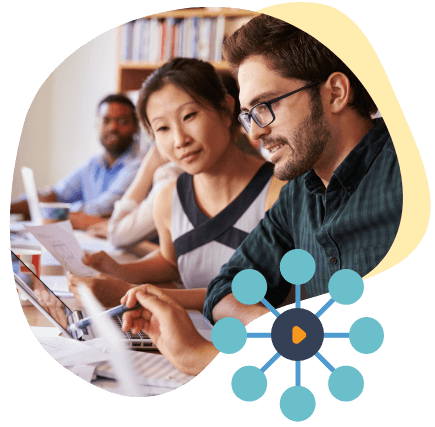 The perfect exam revision tool
When it comes to secondary revision resources, you have peace of mind knowing the hard work has been done for you.
We've compiled teaching and revision resources mapped to exam board specifications to help you and your students with revision for GCSEs. Downloadable resources are available for free.
A Level students can use ClickView to develop skills in independent learning, in preparation for university study. Revision playlists and interactives help engage all senior students in learning. Access full-length videos and resources for free.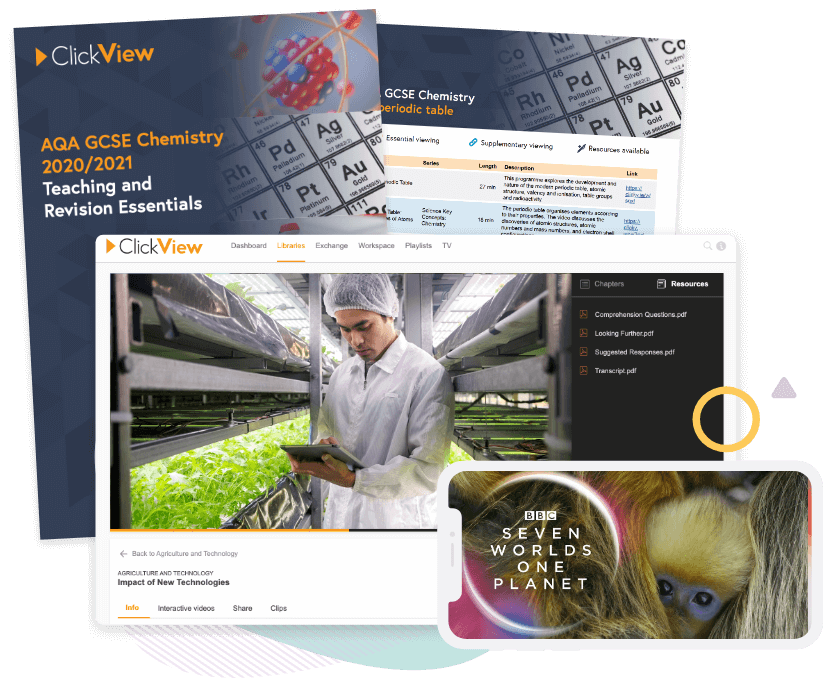 Teaching strategies for secondary schools
ClickView offers an extensive library of rich video content for secondary schools to help boost outcomes and deepen your students' understanding.
Stories from schools with ClickView
"The breadth and depth of quality and repurposable video content gives our educators the freedom to deliver an inspiring curriculum, whilst pupils can explore further as part of their independent learning."
Gwyn Ap Harri, CEO
XP Schools Trust
What's new in education?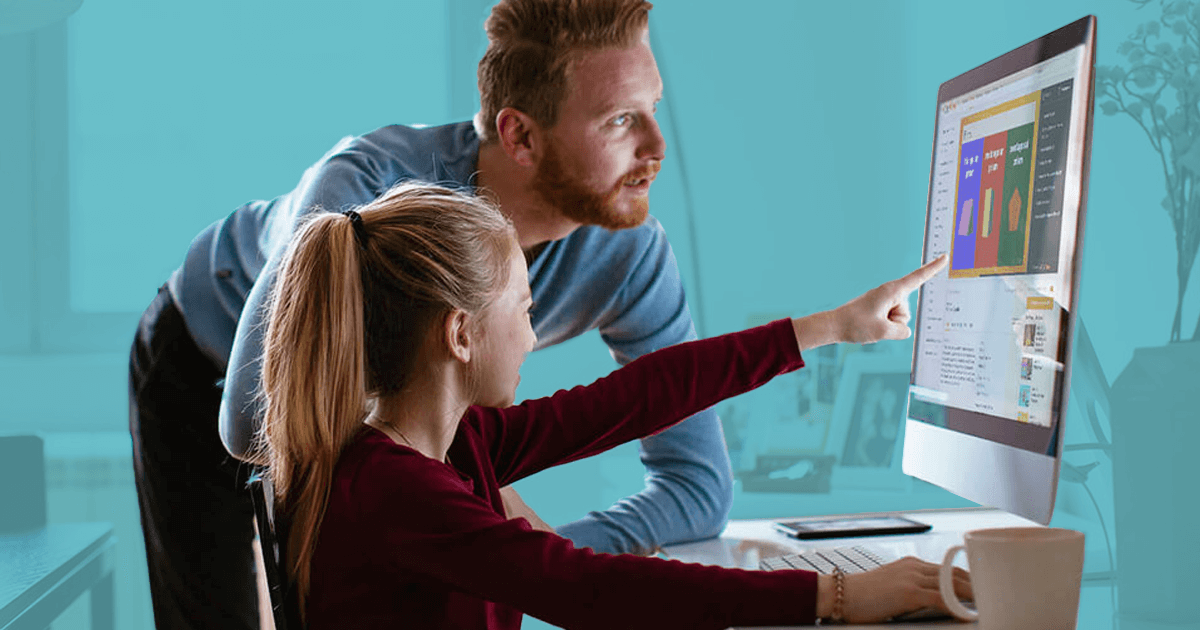 Are you homeschooling your teen during COVID-19?
We find ourselves living in pretty interesting times. Like many other households around the country and the world, you're probably now working, parenting and homeschooling secondary school-aged children from home. And wondering exactly how it's all supposed to work. To help keep your sanity intact and teenagers learning, while you navigate work commitments, here are …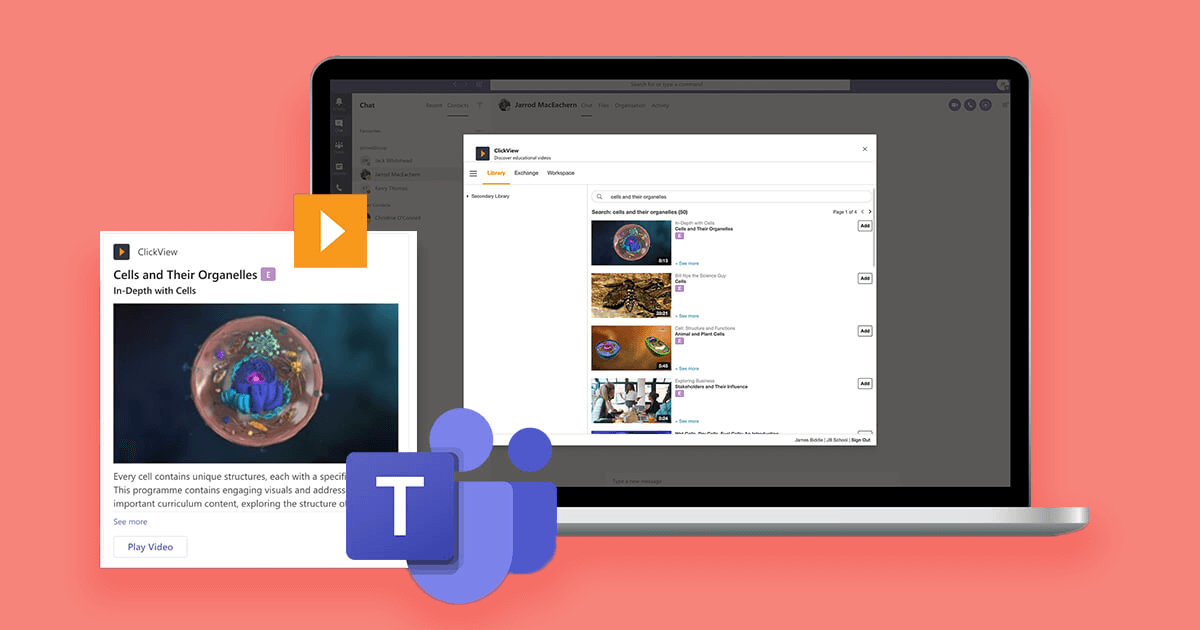 The ClickView app for Microsoft Teams is here
We're excited to announce a new collaboration that further supports rich learning, particularly in a time of remote education. ClickView now integrates with Microsoft Teams. Designed with teachers in mind, this integration is live and readily available to schools and colleges. We've seen increased demand from schools for a ClickView app for Microsoft Teams. As …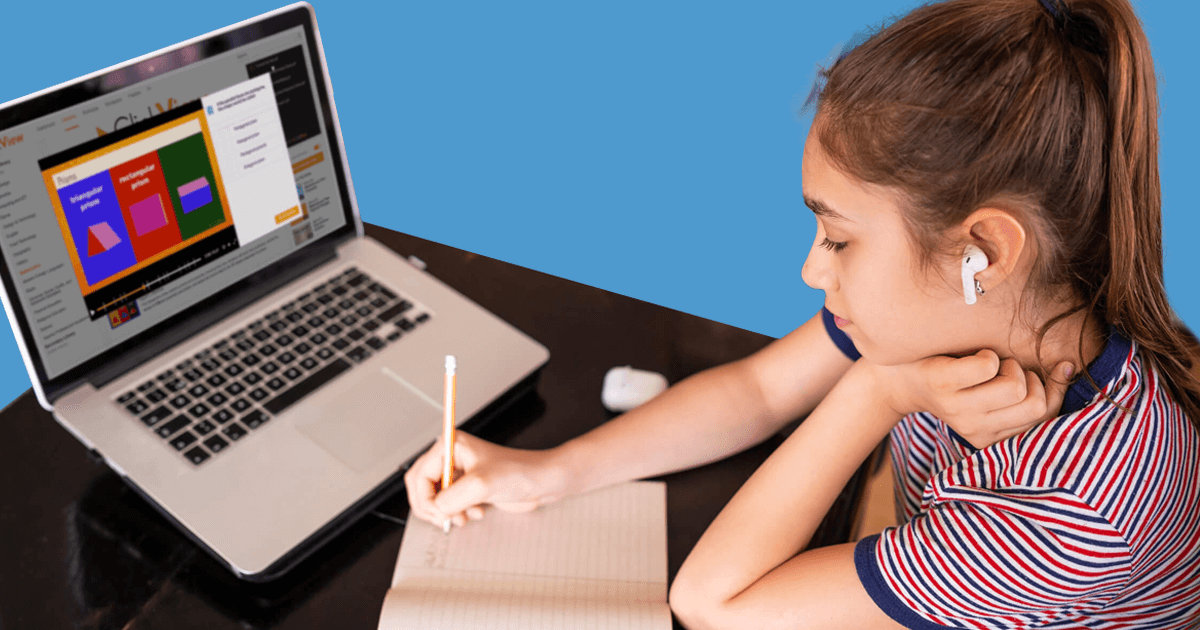 Embracing the opportunity of blended learning
This time last year educators across the country were as busy as ever with the start of a new academic year. Little did they know the academic year of 2019/20 would see the most significant seismic shift to teaching and learning that any of us have experienced. The rapid switch to remote teaching meant educators …