Further and higher education teaching resources
In higher education settings, video is more important than ever as a way to engage students in dynamic learning. You can access ClickView's frequently updated library of further education videos aligned to your subject, plus free-to-air content including BBC RES.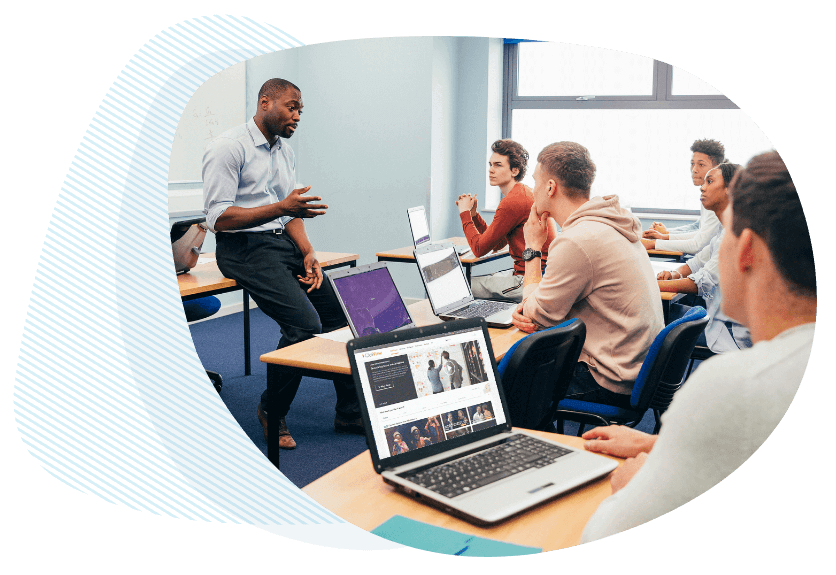 Which faculty do you need resources for?
Choose your faculty below and browse the collection of video content available to enhance student learning outcomes in your lectures and classes. We have more than 2000 dynamic and engaging educational videos spanning a breadth of subjects. Create or access ready-made interactive videos for formative assessment or to track student progress. Our supporting teaching resources, such as downloadables and lesson plan sequences, can save you time.
Benefits
An ever-growing library
To make sure you always have the most relevant content, we regularly update our further and higher education library. Your subscription gives you complete access to all ClickView-produced content, content from world-leading publishers, plus ClickView TV. You also have access to thousands of videos on the Exchange, including BBC RES, plus relevant parts of our GCSE library for resits.
Practical resources
ClickView videos come with associated teaching resources, such as lesson plans and worksheets, to help with student assessment and save you time.
Content to enhance student learning outcomes
We release new ClickView original curated videos every month, developed in consultation with lecturers to align with college and university content requirements.
Seamless integration
ClickView works beautifully alongside your existing systems, including easy access through Single sign-on. Powerful integrations embed resources in your existing LMS and support further discovery through your library systems.
Access the entire platform from anywhere
You and your students have full access to the ClickView platform for videos, content and resources, anywhere, at any time. You don't even need an internet connection. Find out more about remote learning with ClickView.
The latest TV content for further and higher education
ClickView TV helps you incorporate current and relevant TV content into your lectures. Use the subtitle search to quickly find engaging, ad-free content for your students.
Plan ahead using the ClickView TV Guide
You'll never miss the best educational content on free-to-air TV. Find what's airing in the next fortnight and request your advert-free copy. When students are absent or they just want a refresher, they can watch later at home without the distraction of adverts.
20,000 of the best Freeview programmes
College and university educators can easily find, keep and use TV content. It's also a cost-effective way to access films to support English Language and Literature faculties, or Media departments like TV Production or Journalism. Browse by category, topic or subtitle.
Resources for contemporary teaching
All the latest TV content is available, with 24 Freeview channels and 8 European satellite channels from the past 28 days recorded. Choose the advert-free educational content you need, then edit it to suit your purposes. Show a single scene for theme analysis, create a quiz, or explore a film technique.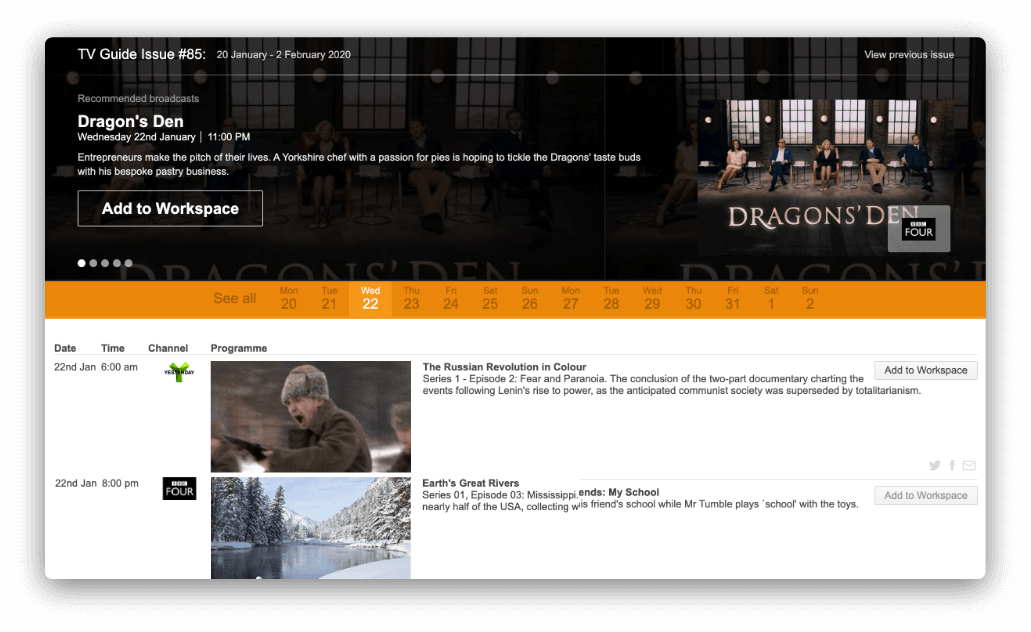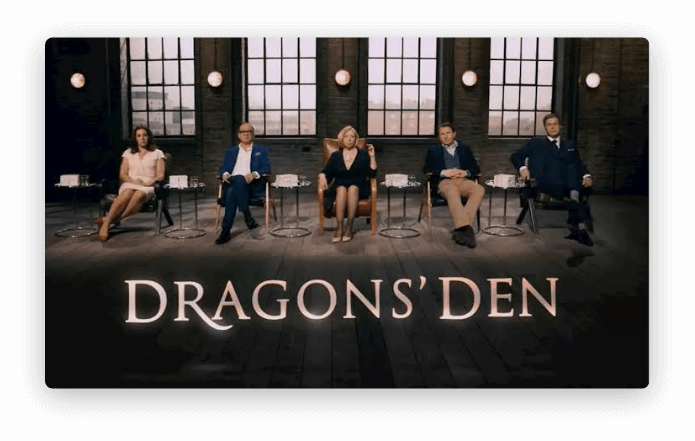 Formative assessment for higher education
ClickView interactive videos are useful resources in any faculty within a further and higher education environment. By adding an interactive layer to any video, you can encourage the students in your lectures to check their understanding and reflect on key learnings.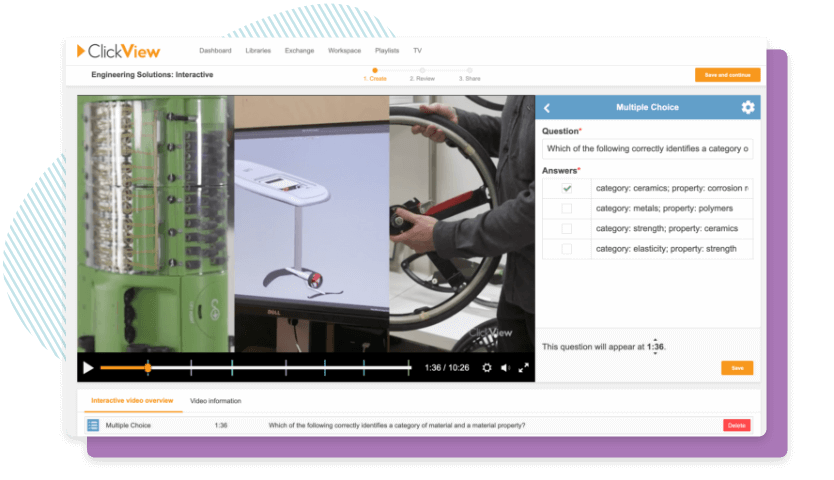 How does interactive video work?
The opportunity to embed questions or problems transforms video watching from passive to active in just a few clicks. Find specific videos for your classes, add different question types and then use the in-built analytics to make sure students understand the topic content.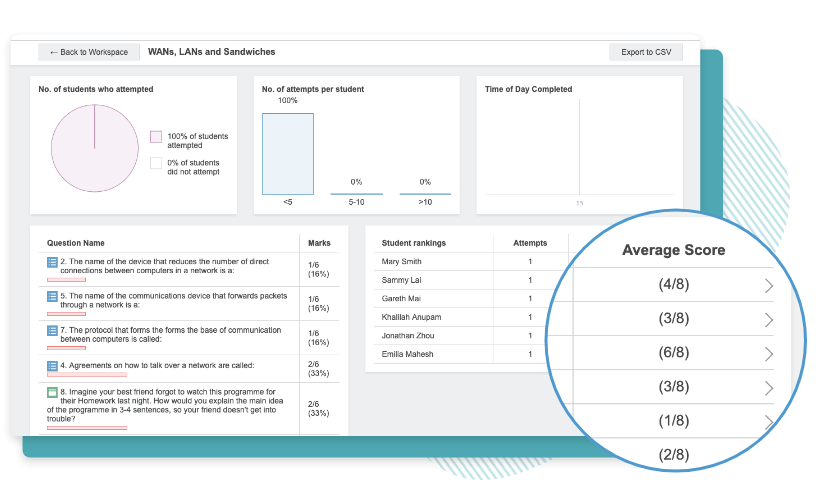 How will my students benefit?
Using interactive video can help your students develop their skills in critical reflection and higher order thinking. Making students aware of their progress and learnings can also help them stay motivated and engaged in class. ClickView helps you store formative assessment evidence safely and securely, to help you track student progress.
Powerful video platform for Multi-Campus Support
ClickView helps your instruction to share practice, and create consistency and continuity across multiple campuses, while also enabling individual campuses to create their own needs-based resources. Facilitate workload-saving collaboration between different campuses while increasing overall resource quality. Analytics for the entire college estate are also available.
Cloud-based shared libraries foster collaboration and reduce workload by:
Giving campuses the capacity to centrally create, manage and share video resources, including interactives and banks of curriculum content.
Facilitating resource sharing by specialist educators in particular subject areas, such as formative assessment quizzes for pre-testing.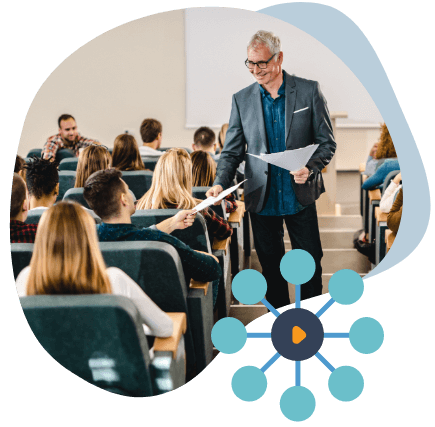 Teaching strategies for further and higher education
ClickView provides great quality video content, empowering you to create rich learning experiences. Working closely with expert lecturers, we regularly produce our own original series covering a huge range of subjects.
Stories from institutes using ClickView
Take video learning further
Kenneth Park, Senior Lecturer
Harness the depth of content in ClickView
Liz Wyman, Head of Resources and Guidance
Using video for effective assessment
Neil Nodzak, Learning Technologist
"ClickView offers a unique service, both in terms of the bespoke learning content available for an FE audience and also in the ability to act as a repository for college generated video content."

Joe Wilson, Head of Digital Skills
City of Glasgow College
What's new in education?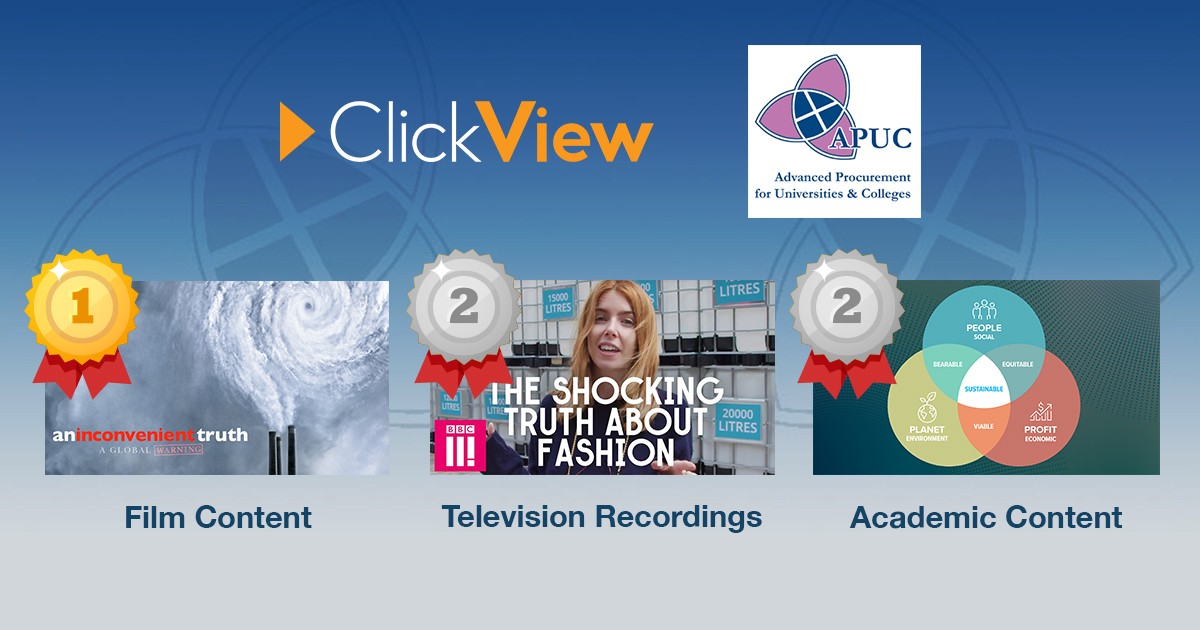 ClickView recognised by Advanced Procurement for Universities and Colleges – moved to press site
ClickView was recently recognised by APUC (Advanced Procurement for Universities and Colleges) Limited, the procurement centre of expertise for all Scottish universities and colleges. Following a competitive tender evaluation process, ClickView was named the highest-ranked online streaming and online training services provider for Film Content as well as top positions in the TV Content and …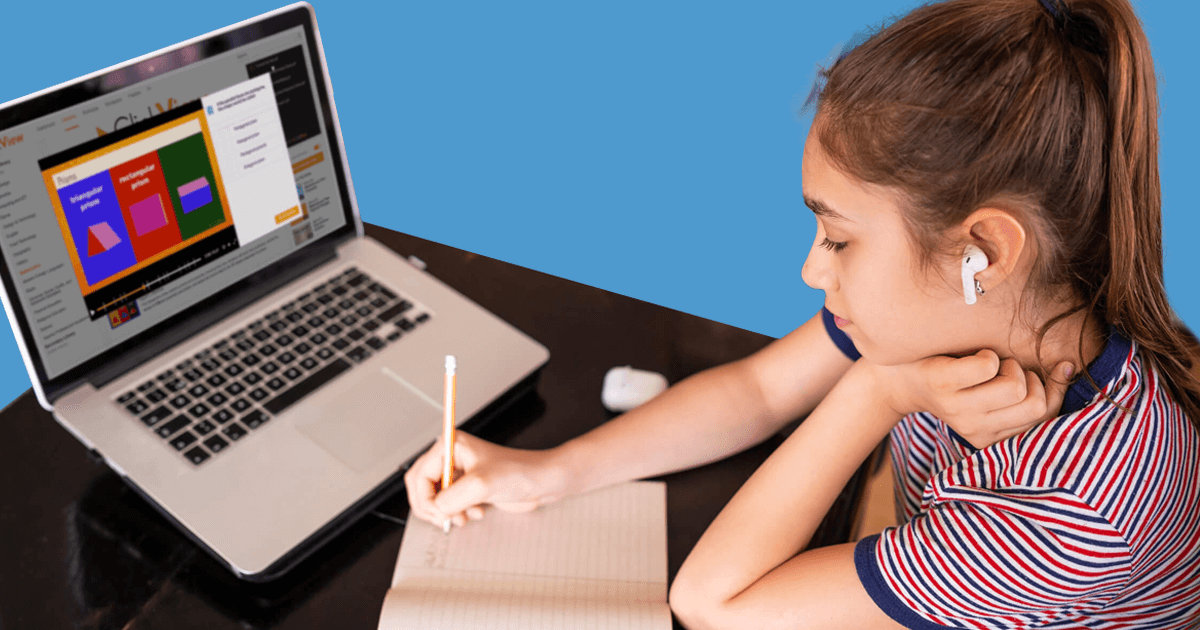 Embracing the opportunity of blended learning
This time last year educators across the country were as busy as ever with the start of a new academic year. Little did they know the academic year of 2019/20 would see the most significant seismic shift to teaching and learning that any of us have experienced. The rapid switch to remote teaching meant educators …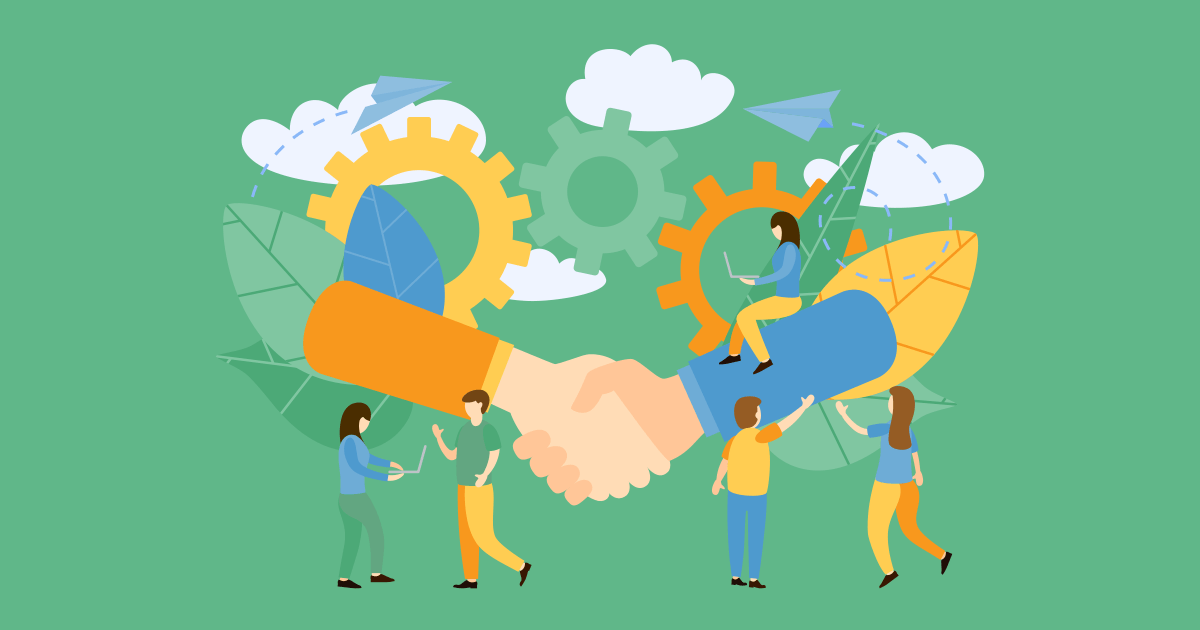 Understanding the impact of corporate social responsibility
In this four-part series, corporate social responsibility (CSR) is explored at both an academic level and in a real-world context to help upper secondary and further education students understand the social, economic and environmental obligations underpinning modern-day business operations. CSR and Stakeholders With Marks & Spencer providing an invaluable case study of how corporate social …