Key Stage 2
teaching resources
A ClickView subscription gives you unlimited access to our comprehensive and regularly updated video collection, plus the best available free-to-air content. All videos in our primary collection are designed for a younger audience. Each of them has been selected for its relevance to the National Curriculum. As a Key Stage 2 educator, you'll also find valuable teaching resources, such as lesson plan templates and downloadable worksheets, alongside each video. We're here to support you however we can with your lesson planning and delivery.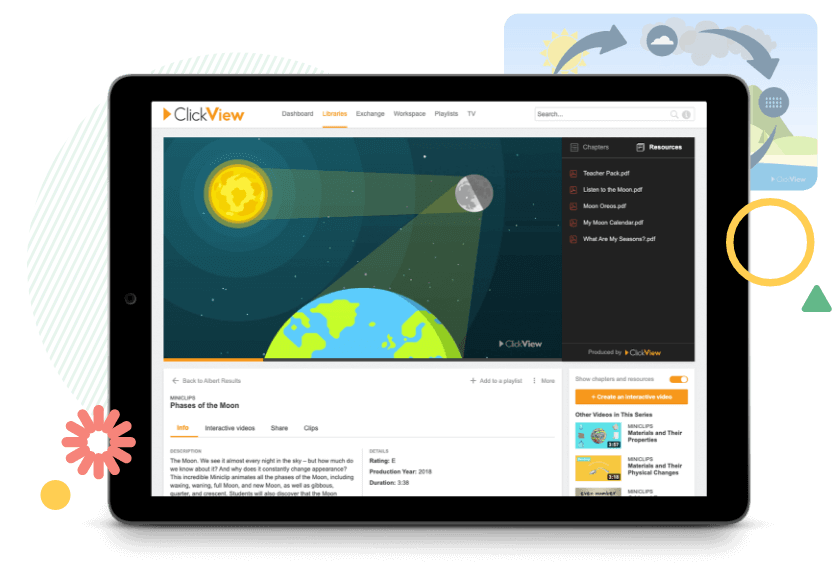 Free Key Stage 2 videos
You can access our most popular videos for Key Stage 2 free, for a limited time. Find out how a huge number of UK schools already use our content to enhance educational outcomes in the primary classroom.

Want to discover even more primary video content ideal for your young learners? Request your free trial today.
Great KS2 lesson plan ideas for the classroom
Use ClickView video content in your primary classroom to heighten student engagement and boost educational outcomes, whatever the current unit or topic. Search our lesson plan packs for classroom activities your students will love. For a fantastic lesson starter, use an excerpt from our Miniclips series to hook your students into a topic or encourage group discussion. Benefits
Bring lessons to life
Find programmes, news and documentaries on ClickView TV that will bring your classroom topics to life. Browse the TV Guide at any time to make sure you don't miss the best educational content. Learn more about ClickView TV.
An interactive experience
To transform video watching into an active classroom experience, incorporate an interactive question layer. Engage young students in learning while you gather important data for planning. Learn more about interactive videos.
All videos rated for you
Each of our videos has been carefully classified, so you can show them in your primary classroom without worrying about seeing adverts or inappropriate content.
Our educational consultants
At ClickView, we work alongside a team of subject experts who help to make sure all our high-quality content aligns with the National Curriculum.