Quality Science resources for all secondary schools
Use video in your Science classes to create a big impact.
ClickView offers hundreds of educational videos and supporting resources for secondary Science. Use these to help your students better understand how to make predictions, test hypotheses and conduct experiments in the lab. Covering topics across Biology, Chemistry, Physics and basic skills, ClickView's Science library is a valuable resource for both students and teachers. Helpful educational resources accompany each video. From downloadable worksheets to activities and lesson plans, all your classroom essentials are at your fingertips.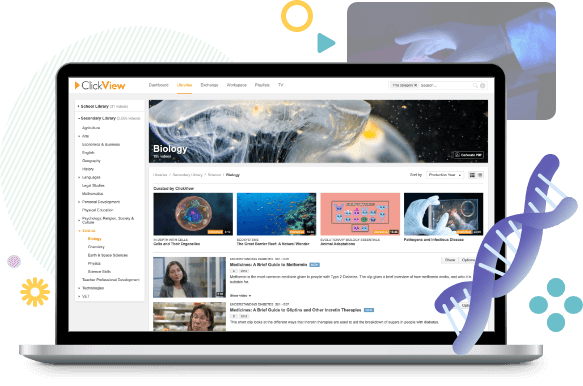 Free secondary Science videos for deeper understanding
High-quality videos can clarify concepts or help students revise for topic or unit tests. Using interactive video, you can even conduct formative assessment to check your students' level of understanding. Right now, you can watch our most popular Science videos for free. Discover how you can work with your library team and ClickView to create a deeper understanding of Science through video.

To access every ClickView video and bonus educational resources, request your free trial.
Uncover a huge range of curriculum-aligned Science resources
With full ClickView access, you can view all videos and download the secondary Science resource pack for any video. These resources, all aligned to the National Curriculum and Curriculum for Excellence, include lesson plans and classroom activities, such as quizzes, to complement each video. Download and print them or adapt and embed them into your LMS to use in class.