Quality English resources for
secondary schools
Bring the study of English to life for your students.
ClickView offers a huge range of educational videos for use in the secondary English classroom. Our extensive library of English videos is regularly updated with high-quality ClickView-produced videos aligned to the curriculum, alongside the best available free-to-air content, advert-free.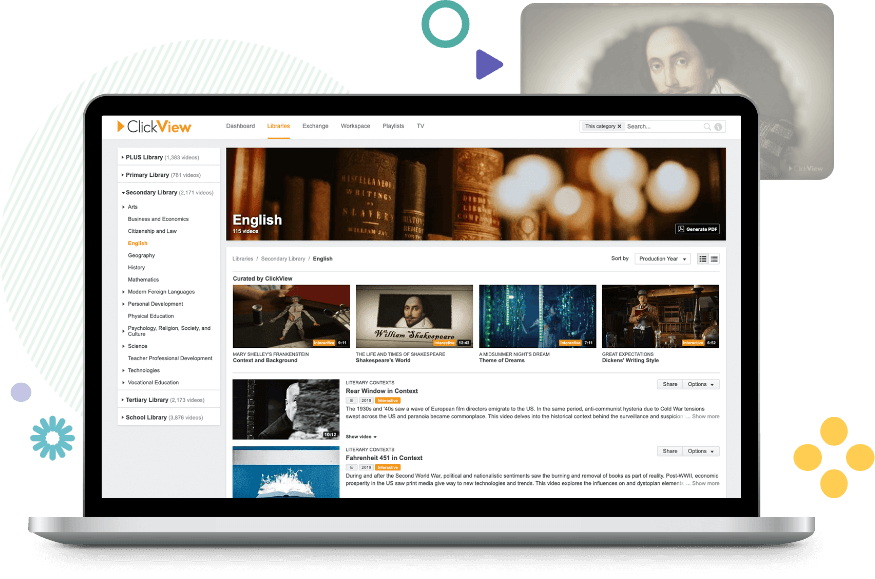 Free secondary English videos to enhance teaching and learning
Our most popular English videos are available free, for a limited time. Watch one today to learn why so many schools already use ClickView to support student engagement and boost educational outcomes in the classroom. Through reinforcing concepts and applying real-life context to ideas, video can help your students learn and retain information more effectively.

For access to the entire library of ClickView videos and supporting resources, request your free trial today.
Discover extensive curriculum-aligned English resources
A full ClickView subscription means you can download the secondary English resources for any video, such as transcripts, comprehension questions or theme exploration. You can even adapt these resources for online learning and embed them into your LMS.
Teach English with confidence, knowing all supporting resources have been carefully aligned to the National Curriculum and Curriculum for Excellence, with guidance from subject experts. Our resources can help you plan your lessons to use video effectively as a teaching and learning tool.