High-quality
History resources for secondary schools
Inspire a love of History in the contemporary secondary classroom.
Use the power of high-quality video content to bring historical events like the Black Death or the Holocaust to life for your students. Use video for effective pre-teaching, revision or to reinforce subject content. From war and revolution to crime and punishment, ClickView has you covered with an extensive library of secondary History videos. Each video has been aligned with the curriculum in consultation with subject experts and comes with bonus resources. You can find lesson plans, classroom activities and downloadable worksheets to help you with your planning.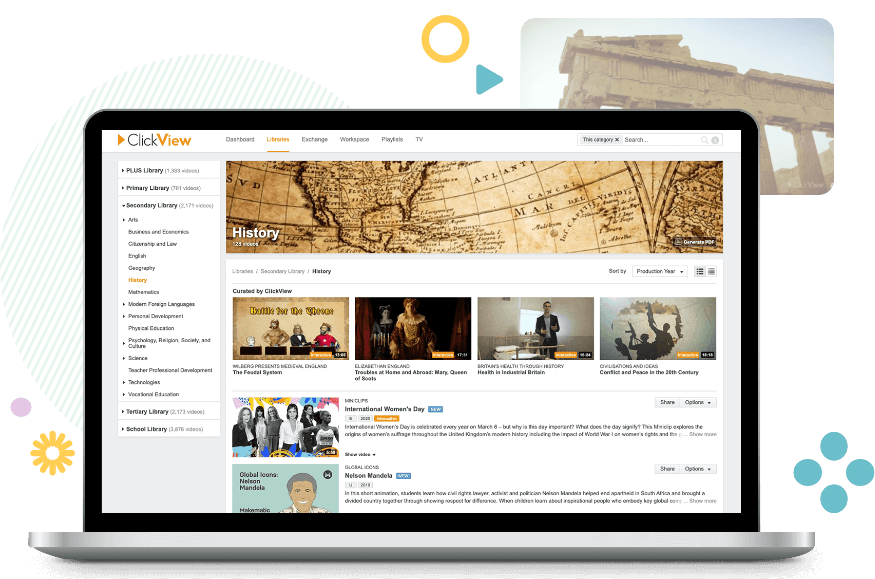 Free secondary History videos to boost engagement and classroom outcomes
High-quality, engaging video content can make the world of difference to engagement and subject understanding. Learn more about how your History department could use ClickView to make a significant difference to student engagement and educational outcomes. For a limited time, you can watch a selection of popular History videos for free.

For access to every ClickView video and the full suite of bonus supporting educational resources including lesson plans, request your free trial.
Access current, high-quality curriculum-aligned History resources
With a ClickView subscription, you can download the accompanying secondary History resource pack for any video in our library. Save time and teach your lessons with confidence, knowing that all classroom activities, worksheets and lesson plans have been designed with the National Curriculum and Curriculum for Excellence in mind. Created with advice from subject experts, History resources include quizzes, timelines, people profiles and more.