About us
At ClickView we strive to transform teaching and learning experiences globally. We do this by:
Empowering educators with the best of technology; and
Enriching the education of future generations through world-leading video content.
With teams across the UK, the US and Australia, we're proud to support over 5,000 schools, colleges and universities around the world.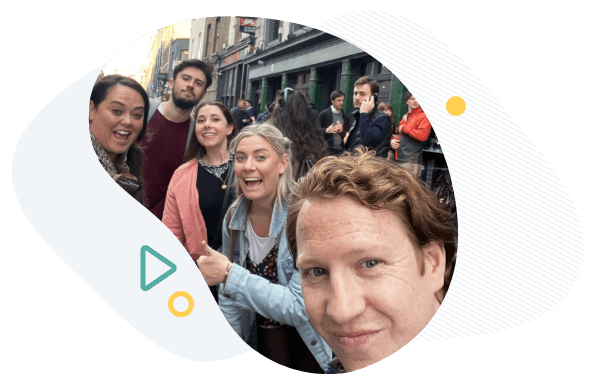 Our evolution
ClickView was founded in 2003 and we've grown in leaps and bounds since our early years. We now have more than 100 staff worldwide working to make a positive impact on the education of future generations. Here's how we evolved from a tech start-up into a world-leading content producer of curriculum-aligned video titles for educators and students.
2003
The story begins
ClickView is founded in 2003 by Evan Clark, Tim Power and Matthew Sandblom, representing a whole new way for teachers to engage with students, especially digital natives. ClickView operates as an on-premise streaming solution for schools and needs a software install and a server.
Internet speeds are a fraction of today's and DVDs are common technology, especially in education settings. The vision of ClickView takes shape around the forward-thinking belief that digital video will fast become the future, long before streaming services like YouTube exist.
The ClickView platform is an instant hit, removing the need for teachers to borrow DVD or VHS videos. Everything is suddenly available on computers and in the classroom.
ClickView are the exclusive distributors of VEA/ Classroom Video/ Learning Essential content in digital format.
2004
Schools can now record TV
ClickView develops its own DVR technology, allowing schools to record and share TV content.
2006
Boots on the ground in the UK
Tim Power opens ClickView's first UK office in Bristol, which at the time is shared with another Australian edtech company, 3P Learning.
The Exchange is licensed by Screenrights in Australia, and ERA in the UK.
Future ClickView CEO Edward Filetti joins the team as a part-time accounts junior, joining a team of 12 staff.
We commence our partnerships with third-party producers, to bring together the very best of educational content in one place.
2007
Cambridge here we come!
ClickView grows in the UK and moves into its own office, this time in Cambridge.
2009
24 hours a day, 7 days a week
The ClickView 24-7 device is launched, enabling schools to harvest far more TV content than was previously possible.
ClickView takes on additional offices to keep up with their Australian growth.
2012
The cloud changes everything
ClickView moves to Microsoft Azure in 2012, catapulting it into a growth cycle that sees it reach hundreds of schools worldwide.
With video delivery via the cloud, customers can be set-up and using the ClickView product immediately using a single sign-on service.
ClickView consolidates its Australian offices into their current HQ in Pyrmont, Sydney.
2013
The cloud advances
ClickView 24-7 Cloud Launches, a revolutionary advance making free-to-air TV available to educators, via the cloud.
2014
More than a tech company
ClickView acquires education video production house 'VEA' and a studio in Melbourne to establish ClickView Productions. The aim is to produce new video titles mapped to the Curriculum.
1,500 schools now using ClickView.
ClickView Online video views show a 65% increase from prior year.
2015
Continuing to innovate in teaching and learning
ClickView launches interactive videos and ClickView TV.
More than 2,000 schools are now using ClickView.
Hitting Home with Sarah Ferguson for White Ribbon Day and violence against women is the most added show ever in its first 24 hours on ClickView.
National Theatre On Demand, In Schools use ClickView to make productions available free of charge to every school in the UK.
ClickView moves into the tertiary sector, working with hundreds of further education colleges and universities in Australia and the UK.
2016
Taking centre stage!
Our interactive videos are a finalist at the BETT Awards.
ClickView now services over 2,500 schools and users can access curriculum-relevant video anywhere, anytime, and on multiple devices.
Bertram Poppingstock: Problem Solver is the first of our own productions to be screened on broadcast TV.
2017
Major digital developments
We launch our new digital curriculum catalogue, helping to ensure educators can easily find the most appropriate educational content.
ClickView users now have access to the BBC RES, an archive of any BBC digitized content broadcast since mid 2007.
TV Guide is now available to browse Freeview TV educational content.
ClickView moves its UK office to the London tech hub of Shoreditch.
2018
System wide transformation
The Australian state of Victoria choose ClickView for all Secondary and all through schools.
Over 2,700 schools now use ClickView.
Deprecation of non-teaching & learning technology as ClickView continues to focus and invest more heavily in world class teaching and learning and curriculum production.
We have grown into a community of thousands of educators around the world with production studios in Melbourne and London.
Delvene Neilson, one of Australia's leading industry experts, joins us from 3P Learning as the Head of Customer Success.
2019
From strength to strength
BETT and ERA awards recognition for secondary content.
ATOM award finalist for Best Animation, Growth Mindset and Best Web Series, World War II.
EDTECH50 list ClickView as "One to Note".
Victoria (Australian state) expands its access to provide 1,500 primary schools with ClickView.
GCSE Revision Guides Released.
Now 100% cloud-based, 'Shared Libraries' facilitates collaboration with Enterprise tools.
Over 4,000 schools and colleges worldwide use ClickView, with a 98% renewal rate.
Michael Wilkinson from I Am Learning and Frog, revered by many in the UK industry, takes the role of UK Managing Director.
2020
Our biggest year to date
ClickView Free released in response to the Coronavirus pandemic, hundreds of our best resources at no cost for all UK schools.
Partnership with The City of Edinburgh Council and Inverclyde Council to provide all Edinburgh and Inverclyde students and teachers with ClickView access.
ClickView becomes a sponsor of the Blended Learning Consortium.
UK Business Heroes award from the British Chambers of Commerce & HRH the Countess of Wessex for our COVID-19 response.
Partnership with Makematic and content contribution to Teaching Online Masterclass, a free online repository of online teaching resources.
Selected by the UK Department for Education as a recommended supplier of high-quality resources.
User numbers triple during remote learning, with video views quadrupling.
Chosen by Education Scotland to host their video content to all schools in the country.
Content aligned with the Curriculum for Excellence to further support Scottish schools.
Cyber Essentials Plus accreditation.
2021
A year of growth and global beginings
Recognised with ERA Award for Best Secondary Resource or Equipment – ICT and Outstanding Achievement During COVID-19.
Selected by the UK Department for Education (DfE) as a recommended supplier of high-quality resources.
Receive approval as a World Class Schools Quality Mark (WCSQM) supplier.
Launch a brand new a platform for primary and secondary educators in the US.
Nominated for a 2022 BETT Award (stay tuned).
Celebrate the 2020 Olympics and Paralympics with new dedicated teaching resources.
Launch an international schools platform to support them in delivering various international curricula.
Our values
As an organisation, we exist to enhance teaching and learning. We support educators at all levels of learning to foster creative and innovative educational environments and to deliver powerful pedagogical outcomes through technology and video. We operate with four key values at our heart.
Empower learners
We demonstrate our passion for deeper educational experiences through learning, growing and sharing our knowledge.
People-centred
People are at the heart of our organisation. We are accountable, and communicate with each other and our customers with honesty and respect.
Lead the way
We play an integral role in evolving teaching and learning through future-focused innovation, rising to challenges and always ensuring that we have the long-term in mind.
Play as one team
We work hard, but always make time for fun as we build meaningful relationships, collaborate and share inspiration.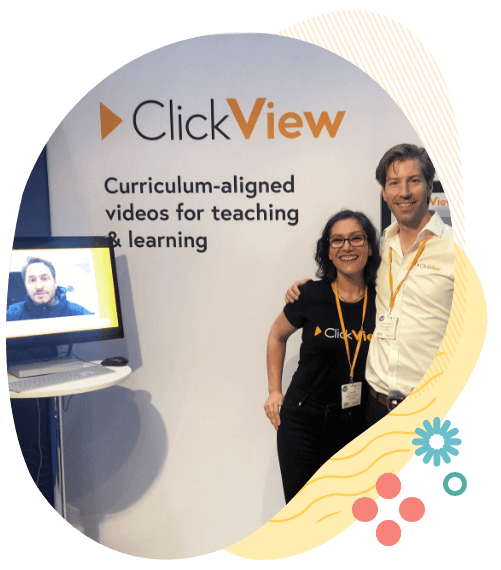 The ClickView Team
Our team of enthusiastic, hard-working professionals is empowered by the technology we use and the products we build. We're always looking for like-minded people to join us, whose love of innovative technology, passion for education and unique skill set can enhance our team culture and company success.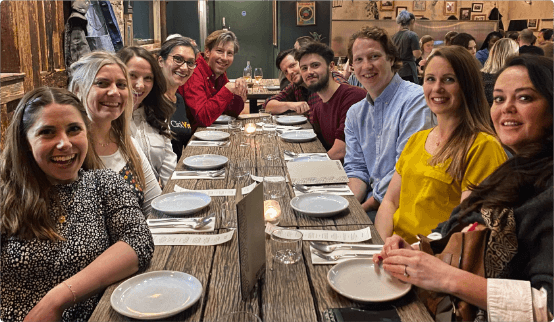 Designed by educators, for educators
Our team includes experienced classroom teachers, committed to producing high-quality teaching resources to enhance outcomes in schools and further education settings.
All content added to ClickView must adhere to our editorial guidelines.
Editorial Standards
Our expert educational consultants
We work with educational consultants, who are pedagogical experts in their subject areas. Our consultants believe video plays an integral role in teaching and learning, and provide guidance with curriculum mapping and content development. Many are current or former teachers and all bring diverse professional experience to their role.
ClickView in the media
Visit the ClickView press hub for the latest announcements, press releases and media coverage. You can also access logos and images via our press kit and find out how to get in touch with our PR team.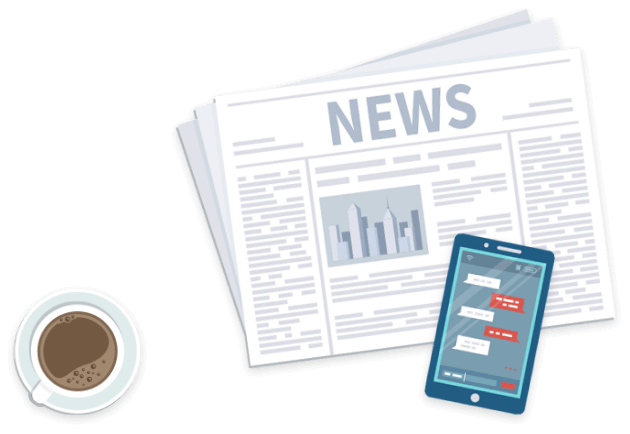 Recognition
We're proud to produce award-winning educational videos and teaching resources for educators around the world.