Quality PSHE
resources for high schools
Help set your students up for life.
From social media and respectful relationships to financial education, your students have a lot to navigate through their teenage years. As their PSHE classroom teacher, you can provide them with some of the essential tools they need for success in an ever-changing world. ClickView offers hundreds of high-quality educational videos and supporting resources, such as lesson plans, downloadable worksheets and classroom activities. We regularly update our expansive library of PSHE videos. Check back regularly for the latest ClickView-produced, curriculum-aligned videos, plus all the best curated free-to-air TV content.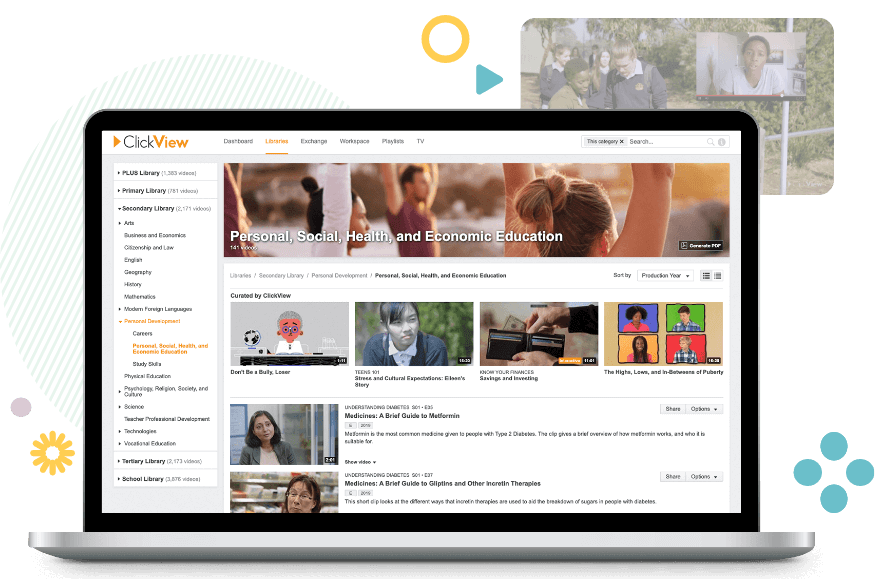 View secondary PSHE videos for free
Watch some of our most popular educational videos for secondary PSHE classes free. Find out how your faculty could use a library of carefully curated video content, just like the many schools using ClickView successfully in and out of the classroom.

For unlimited access to ClickView's video collection and supporting resources, request your free trial.
Discover extensive curriculum-aligned PSHE resources
With full ClickView access, you can download the secondary PSHE resource pack for any video. These high-quality educational resources, such as lesson plans, downloadable worksheets and suggested classroom activities, are designed to enhance teaching and learning. For a goal setting topic, a worksheet may be available guiding students through the process. For financial education, there may be a blank budget to complete.
ClickView meets the new RSE curriculum
We've put together a guide to help you through the transition to the new PSHE Relationships and Sex Education (RSE) curriculum. For many, these resources will build upon the wonderful work you already do, while for others it's the beginning of a new journey.
Download brochure