Free ClickView access ended on 30 September
During COVID-19, we're proud to have supported over 100,000 teachers, parents and students with free educational resources during school lockdowns.
Free access to the ClickView libraries ended on 30 September 2021. You have the chance to extend your free access for a further 30 days with a school-wide trial of the full ClickView platform.
What's included with full ClickView access?

The entire library, including thousands of dynamic, curriculum-aligned videos and resources, feature films and more.

ClickView-produced content, plus content from the world's best publishers, formative assessment tools, built-in quizzes, VLE integration and ongoing professional development and training.

TV recordings from Freeview and European satellite channels, including access to the BBC RES Archive and The Shakespeare Archives.
"ClickView saves teachers time, whilst improving resource quality, taking the guesswork out of finding and delivering high-quality lessons and independent learning content that meets the requirements of the curriculum."
Garath Rawson, Principal
Doncaster UTC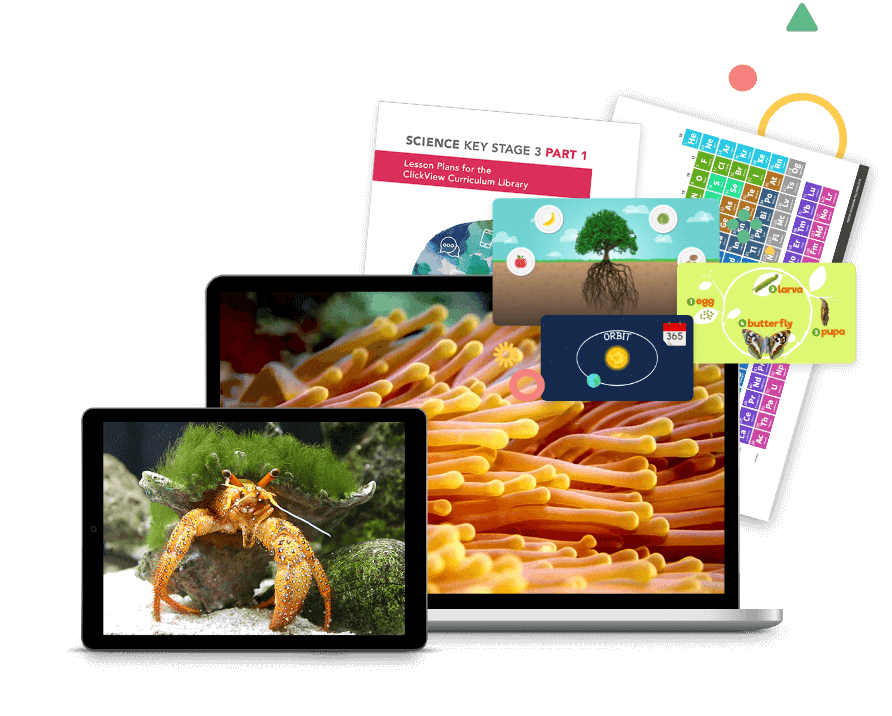 A free trial lets you experience all the benefits of full ClickView
Discover even more of our world-leading, visually stunning video learning resource platform, trusted by over 4,900 schools and colleges.
Curriculum-aligned video content made by teachers, for teachers
ClickView gives you – and your students – access to relevant, world-class video content, designed and curated by curriculum experts, advert free. Discover the best ClickView produced content, aligned to the National Curriculum and Curriculum for Excellence, plus more high-quality clips such as the best of BBC Teach and BBC Bitesize.
"The breadth and depth of quality and repurposable video content gives our educators the freedom to deliver an inspiring curriculum, whilst pupils can explore further as part of their independent learning."
Gwyn Ap Harri, CEO
XP Schools Trust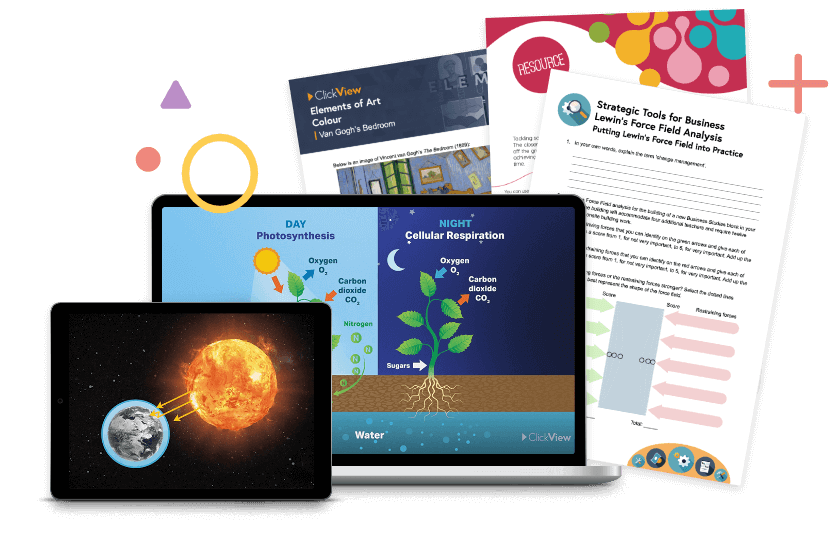 Rich supporting resources that save valuable time
Each video comes with complementary curriculum-aligned rich teaching resources, such as lesson plans, suggested activities and worksheets to save you time, extend your classroom teaching and deepen student understanding. Additional resources provide guidance to help you implement various teaching strategies, such as feedback and questioning with your students.
Contextual TV content and films for learning
Access current and classic films, drama programmes, news broadcasts and more from free-to-air channels to use in your classes. Browse the TV Guide to see what's on and request an advert-free copy of any upcoming listing. Movies + TV gives students front-row access to a fantastic selection of educationally focused TV content and films in a secure environment.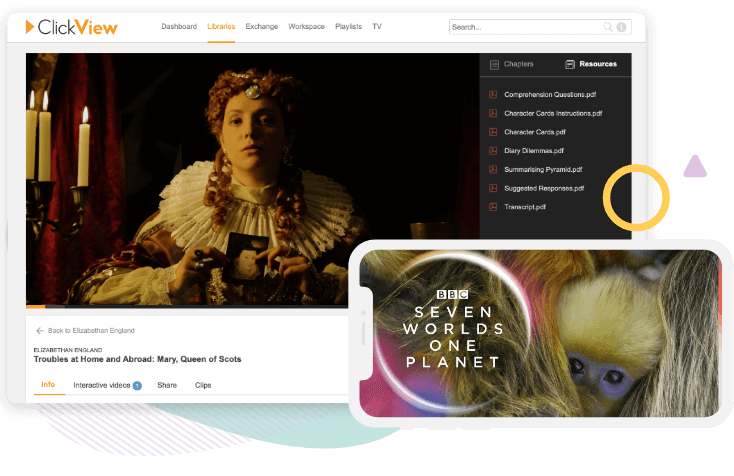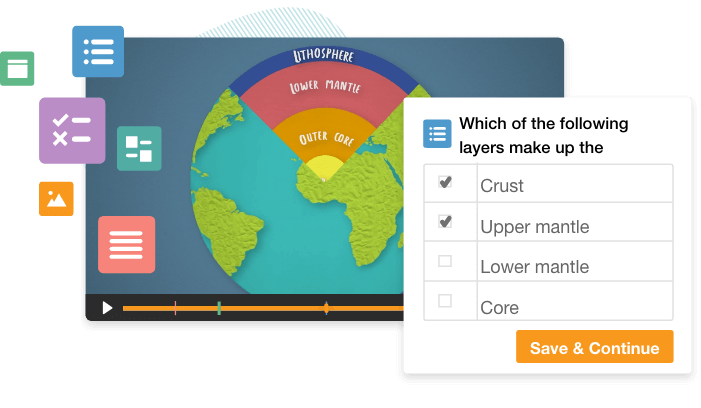 "The most brilliant library of videos ever! ClickView has somewhere to store your TV programmes with access to relevant high-quality educational free-to-air TV and somewhere you can make interactive videos for students."
Sarah Wheeler, Geography teacher
Parkstone Grammar School – Girls Academy & Sixth Form
Educational video quizzes for blended learning
Insert customised questions or annotations into any video to pre-test and track student understanding through a topic or unit of work. Get detailed analytics sent to you in real-time to help you plan more effective, differentiated and targeted teaching for your student cohort.
Simply choose a video with an orange 'Interactive' badge and open the video. The 'Interactive videos' tab is below the video.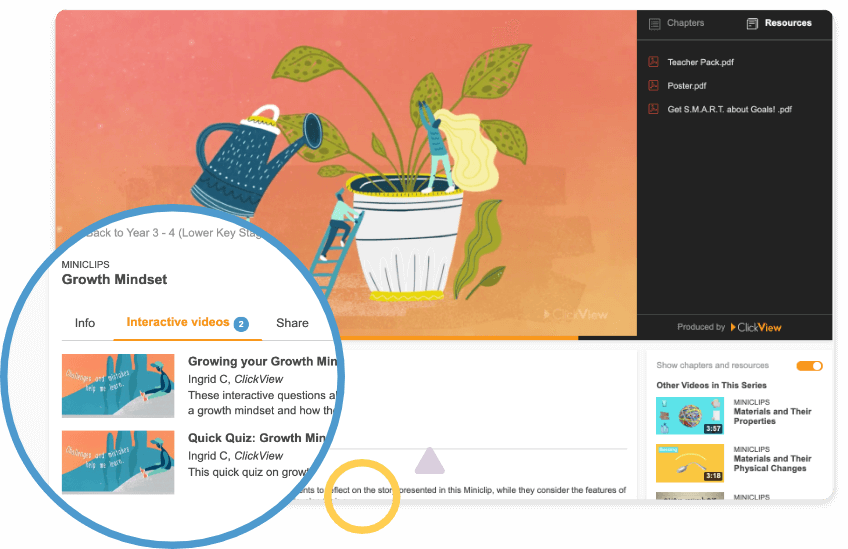 Seamless integrations make using ClickView easy
ClickView integrates with Google Classroom, Microsoft Teams, Moodle and many more platforms, offering a seamless learning and teaching experience. For example, educators can search the ClickView collection from Teams and add videos directly into a Teams chat.
"ClickView provides us with high-quality video curriculum content with built-in interactive quizzes. This saves our teachers planning time, enhances lesson delivery and engages our learners."
Jonathan Bishop, CEO
Cornerstone Multi Academy Trust
Extend your free access now
Here's a sample of ClickView created content
From the content we produce to the programmes we source ClickView is home to the best educational videos and resources for learning and teaching.
All ClickView videos come with free downloadable resource packs.
Sign-up for new content
We release free videos every term on our website aligned to calendar events and popular topics. Want inbox notifications about the latest content?