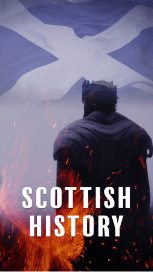 Scottish History
Introducing our important new original series, 'Scottish History'. Kings, queens, treaties and battles: crucial factors of the cause to protect Scottish sovereignty, which hung in the balance during the thirteenth and fourteenth centuries.
Free video series for History teachers and students
Carefully unravelling the interwoven fabric that connects the themes of authority, conflict and identity, this four-part series is essential viewing for students of Scottish history. Discover all four episodes free to share with your students. Each episode comes with a pack of printable supporting resources for your lessons.

Why focus on Scottish History?
This collection has been designed to teach thirteenth and fourteenth-century Scottish history in National 5 and Higher History. Here's why:
The series content makes up an important and significant component of the History curriculum for N5 and Higher.
Each video explores and illustrates the key themes of 'conflict', 'authority' and 'identity'; core content in this curriculum area.
How can I use this series in my classroom?
'Scottish History' is designed for senior secondary students of History, with all videos and accompanying resources aligned with the Curriculum for Excellence.
The clips, each 7-9 minutes long, will provide a springboard for a lesson that also includes discussion, analysis and interpretation of the content and ideas.
The series will also be used for flipped learning or to consolidate learning.
The Battle maps and animations in each video help bring the historical conflict to life, giving students a sense of common military strategies and technologies of the time.
There are many advantages to using video clips to support learning:
Video allows a flexible approach to teaching, and will promote whole-class discussion.
The ability to pause and discuss the content will enhance the comprehension of information.
Students can rewatch and revise content in their own time.
Accompanying educational resources will reinforce and support video content.
What are the post-viewing outcomes for my students?
By watching and interacting with this series, your students will:
Better understand the causes and complexities of the First Scottish War of Independence.
Develop curiosity about the key figures of the thirteenth and fourteenth centuries.
Better understand the past, historical events and developments.
Access more History resources
A ClickView subscription unlocks full access to the secondary library, including all videos for History and accompanying teaching resources.
Try ClickView for free