Introducing the online teaching resource

Teaching Online Masterclass (TOM)
A free video course for educators about how to teach online
Discover useful strategies for teaching online. Experienced educators, academics and industry professionals share their expertise and insights in 50 + bite-sized videos. If you're looking for support with how to teach online or incorporate blended learning, the TOM course is for you.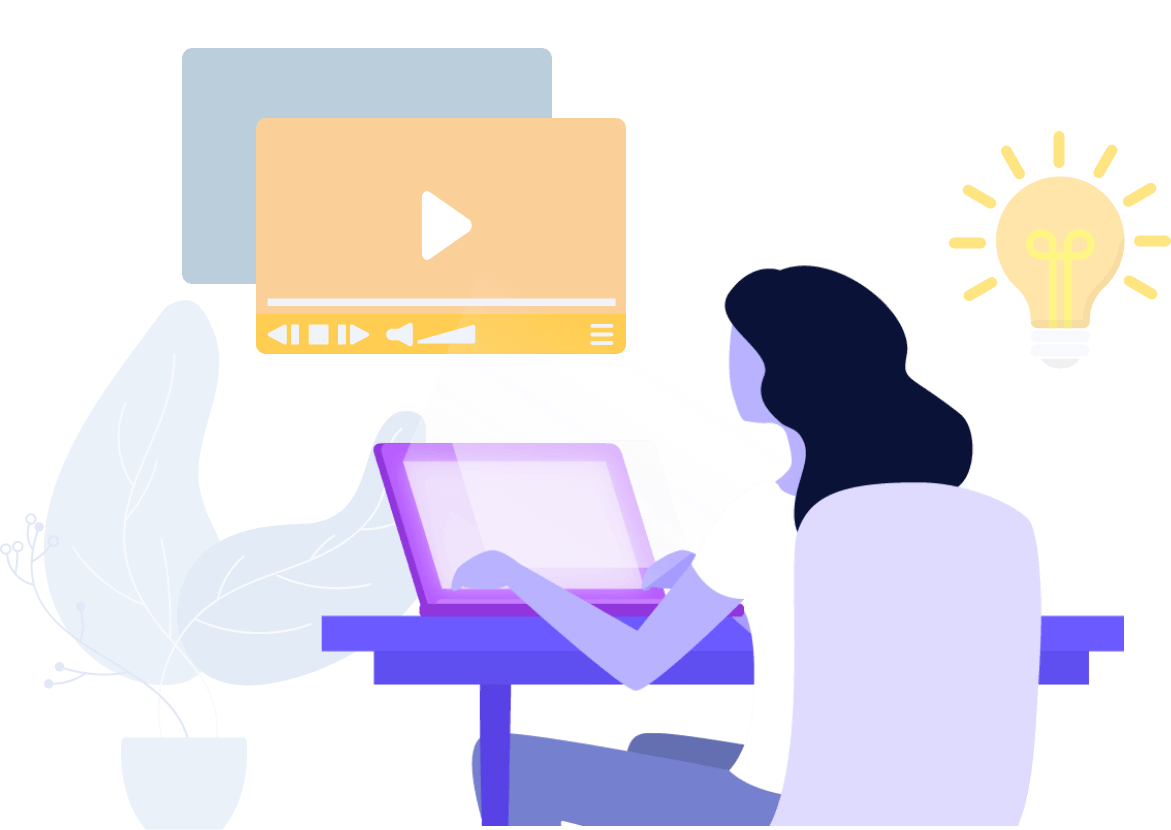 TOM is produced in partnership by ClickView, Makematic, Adobe, Participate, and iCivics.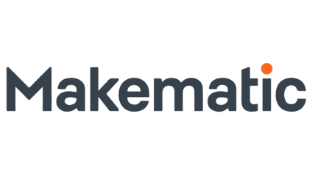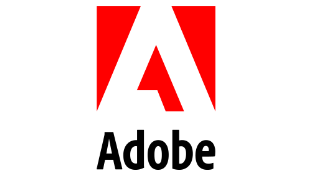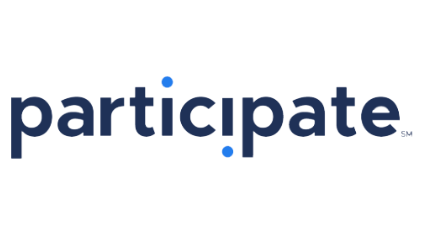 What to expect from our online teaching resources
TOM is a free online teaching resource for educators making the leap into remote teaching and learning. The engaging, self-paced course provides practical approaches to online teaching, with a focus on pedagogy.
You have access to over 50 mini video clips, each just a few minutes in length, combining expert instruction with high-impact graphics.
Support to teach online with confidence
The online teaching course explores the key differences between face-to-face classroom instruction and online learning. Develop the confidence and skills you need to teach successfully online, including practical, actionable strategies that you can implement straight away.
Download brochure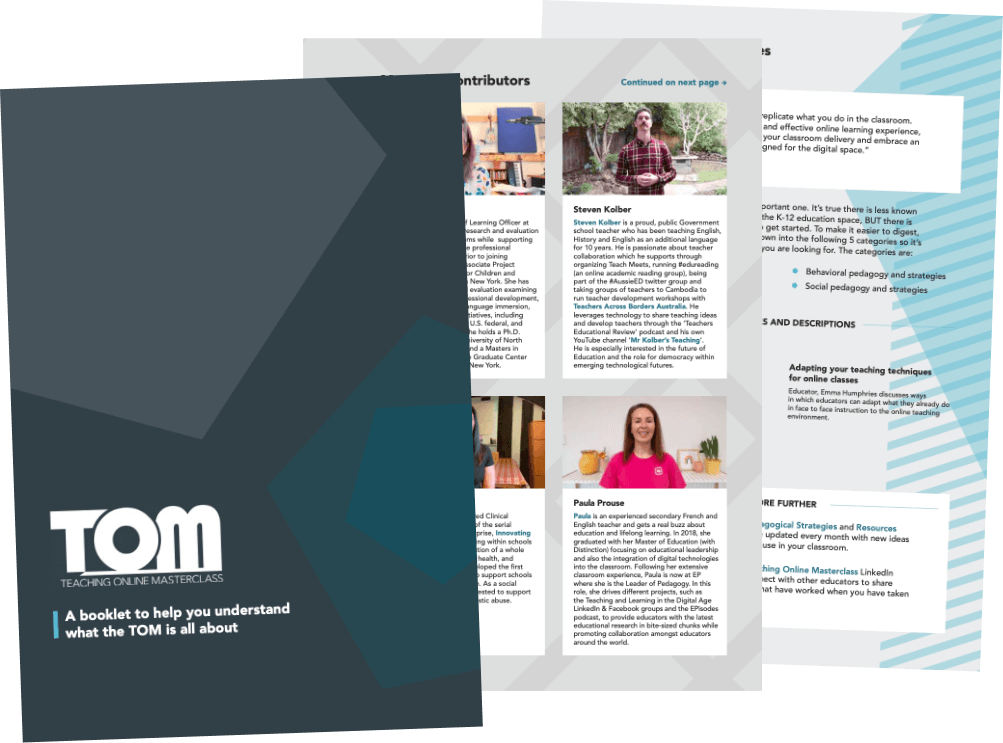 The TOM series contributors
The online teaching masterclass contributors come from many different parts of the world, so you can be sure you're getting unique, multicultural perspectives. Plus, you can learn how countries abroad have approached online learning.
Learn more about the contributors
TOM Masterclass online teaching resources
Here's a summary of the Masterclass video content, organised by category.
Media Release
TOM is produced by some of the world's leading EdTech companies. Get everything you need to know about why they created the free online teaching masterclass.
Download media release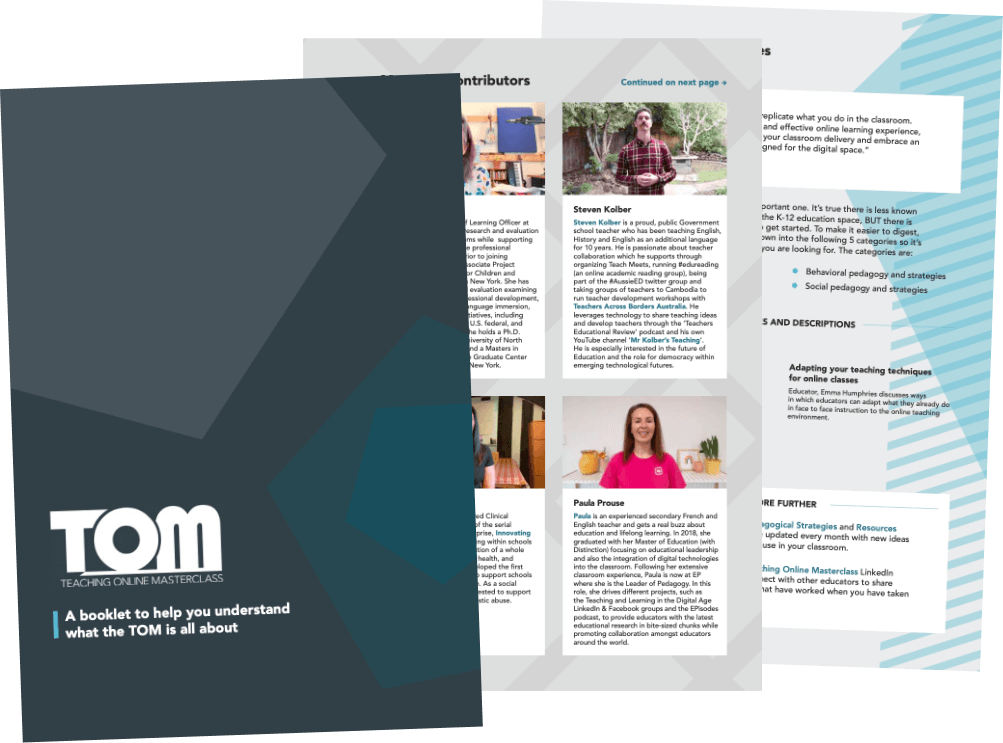 About ClickView
ClickView is the world's leading video content resource for primary schools, secondary schools and further education settings. Founded in 2003 and now with offices across the UK and Australia, ClickView supports over 5,000 schools, colleges and universities around the world. The platform provides access to visually stunning, curriculum-aligned video content and teacher resources, plus contextual on-demand TV, video library and interactive question layers for formative assessment. ClickView puts the highest quality contemporary video content for effective teaching and learning at the fingertips of educators and students. Learn more about ClickView.
Join over

5,000

schools and colleges who enhance teaching
and learning with ClickView
Our extensive collection of rich video content and teaching resources is there for you, to help deepen your students' understanding. Get in touch for your free trial and staff demo today.
Try ClickView for free