ClickView a finalist in five Bett Awards categories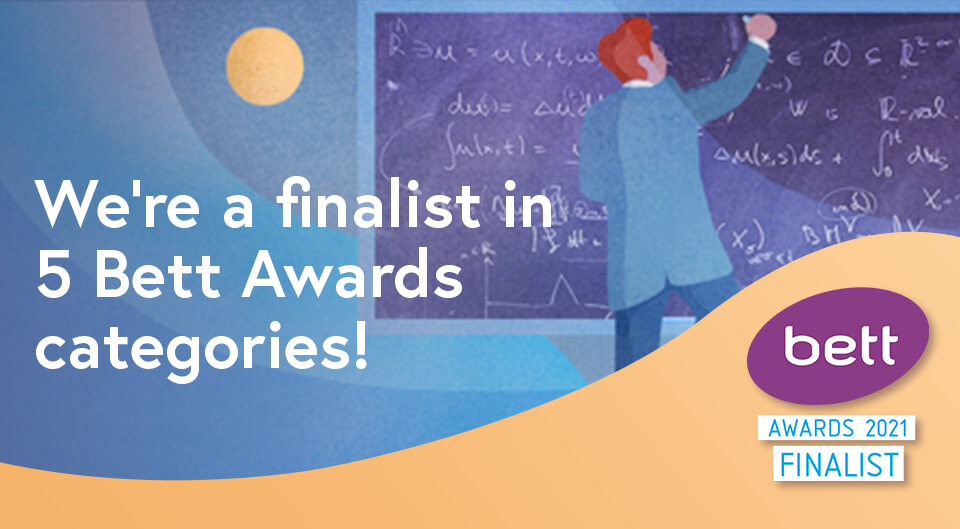 ClickView is thrilled to announce we have been
shortlisted for the Bett Awards 2021
in five separate categories.
The EdTech sector has never been so important and it's such an honour to be in the company of all the fantastic finalists who have been acknowledged by Bett this year. Our nominations in these five categories are recognition of the exceptional digital resources and service we provide to schools and colleges across the UK.
What are the Bett Awards?
The Bett Awards celebrate creativity and innovation within EdTech. The awards acknowledge leading education companies and education technology solutions. ClickView is a finalist in five separate categories in 2021:
Primary content

Secondary content

Classroom aids for learning, teaching and assessment

Higher education or further education digital services

Company of the year
What are the Bett Awards judges looking for?
The judges include experienced teachers, education consultants and advisers, and high profile ICT journalists. All judges are selected for their outstanding ICT knowledge and understanding.
Entries are assessed on specific criteria, including design, cost-effectiveness, accessibility, enabling effective learning, and supporting learning beyond the classroom.
ClickView submission highlights from 2021
Categories: Primary content and Secondary content
The
Primary content
and
Secondary content
awards are two separate categories which reward exemplary software and content for the sector in each respective school phase. 
Here's how ClickView successfully met some of the criteria for these categories.
Content matches the curriculum

Does it engage learners?

Is it accessible and inclusive?
Primary and secondary educators can rely on ClickView to provide quality video to enhance their teaching and learning. By working with
educational consultants
, we ensure content is highly relevant and engaging for students, packaged in an innovative and inclusive platform. Accompanying educational resources, including lesson plans further extend and scaffold learning, while deepening engagement and understanding.
Is it distinctive and innovative?

Does the product show consideration for e-safety within the online context?
Broadcast TV brings real-world context to lessons.
We select and curate the most educationally relevant resources
from 24 Freeview channels and 8 European satellite channels via the 'ClickView Exchange', a growing repository of over 20,000 videos.
Does it enable effective learning?

Does it track progression and achievement?
The dynamic combination of world-class content plus powerful formative assessment sees ClickView used well beyond the classroom. Interactive video quizzes give teachers real-time analytics about student achievement and engagement. These insights inform targeted planning and teaching to cater to individual learning needs and knowledge gaps. The platform also supports home learning and different learning modalities, such as flipped learning. 
A highlight of our much-loved primary content collection is the
Wellbeing Miniclips
series.
Highlights of our secondary content collection include
Fake News
and
Respectful Relationships
, both original ClickView series new to the platform in 2020.
Miniclips: Growth Mindset
Category: Classroom aids for learning, teaching and assessment
This category rewards innovation in and commitment to the development of learning, teaching and assessment tools for the primary, secondary and further education and skills sectors. 
To maximise time in the classroom, the dynamic combination of highly relevant content plus powerful formative assessment tools sees ClickView supports learning beyond the classroom. This includes different learning modalities, such as flipped learning, and accelerating or personalising learning. We are committed to inclusivity and accessibility for all learners, including those with SEND.
Some accessible features of our platform include:
All ClickView-produced content comes with closed captions.

Any video uploaded by an educator can be auto captioned.

The ClickView video player can be fully controlled using the keyboard. 

Immersive reader is built into the platform to read descriptions and instructions in interactive tasks. 
Category: Higher education or further education digital services
This category is open to any company working with Higher Education and/or Further Education institutions to provide them with high-quality, safe ICT and edtech products, resources or services. 
As the number 1 choice for the UK's FE/HE sector and sponsor of the Blended Learning Consortium, ClickView is revolutionising how video can be used for teaching and learning; reducing workload, increasing engagement and boosting educational outcomes. Our Numeracy in the Workplace series is just one example of a popular series that engages learners in the tertiary sector.
Numeracy in Retail: Cash Handling
Category: Company of the year
ClickView is an innovative company demonstrating an exceptional standard of service to education. 
Here are some of our 2020 highlights:
During COVID-19, ClickView partnered with Makematic, Adobe, Participate and iCivics to produce the

Teaching Online Masterclass

, a free, self-paced course for educators worldwide, featuring some of the world's best thought leaders and instructors, with a focus on pedagogy and online teaching strategies. 

ClickView furthers its long-standing support of the Scottish education system as a partner in the delivery of the National e-Learning Partnership. ClickView's world-class teaching and learning content is now available to every school across Scotland, providing access in a time of need.

During remote learning,

free access to hundreds of ClickView-produced videos and educational content

has been provided to all educators and families throughout the UK. This forward-thinking decision was integral to maintaining learning momentum and connection during an extended period of remote learning.

The recent launch of ClickView's

Fake News

series reflects our innovative approach, arming students with the language to deconstruct and question the news they consume, vital in an era of clickbait, tabloid journalism and more.
The Digital Literacy Series: What is Fake News?
What's next?
All 2021 Bett Award winners will be announced on the 16 June, 2021.
In the meantime, you can request your free ClickView trial
 to discover the platform for yourself.
Related Articles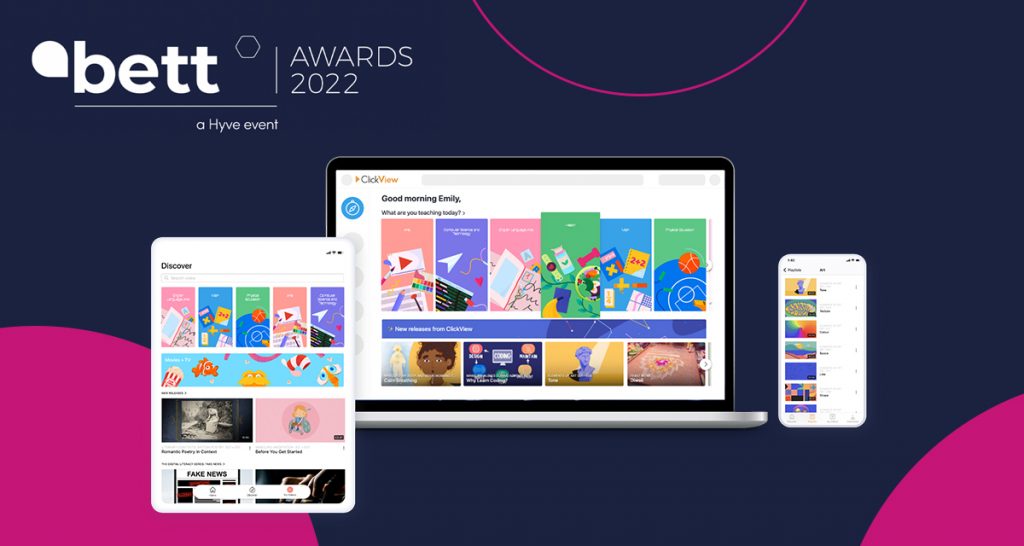 ClickView for Primary has been shortlisted for a prestigious Bett Award
Press Releases
Leading EdTech companies join forces to create free online teaching masterclass
Download PDF
---
ClickView releases topical fake news series for secondary students
Download PDF
---
Why we need to keep talking about sex education
Download PDF
---