Enabling video-led
learning everywhere
Make video an active learning experience
Educational videos and online learning platforms played a vital role in keeping learning on track during the past two disrupted academic years. Life will be disrupted for some time yet, so some schools are adopting a hybrid remote-in class teaching model to create a more consistent learning experience and keep staff and students safe.
Try ClickView for free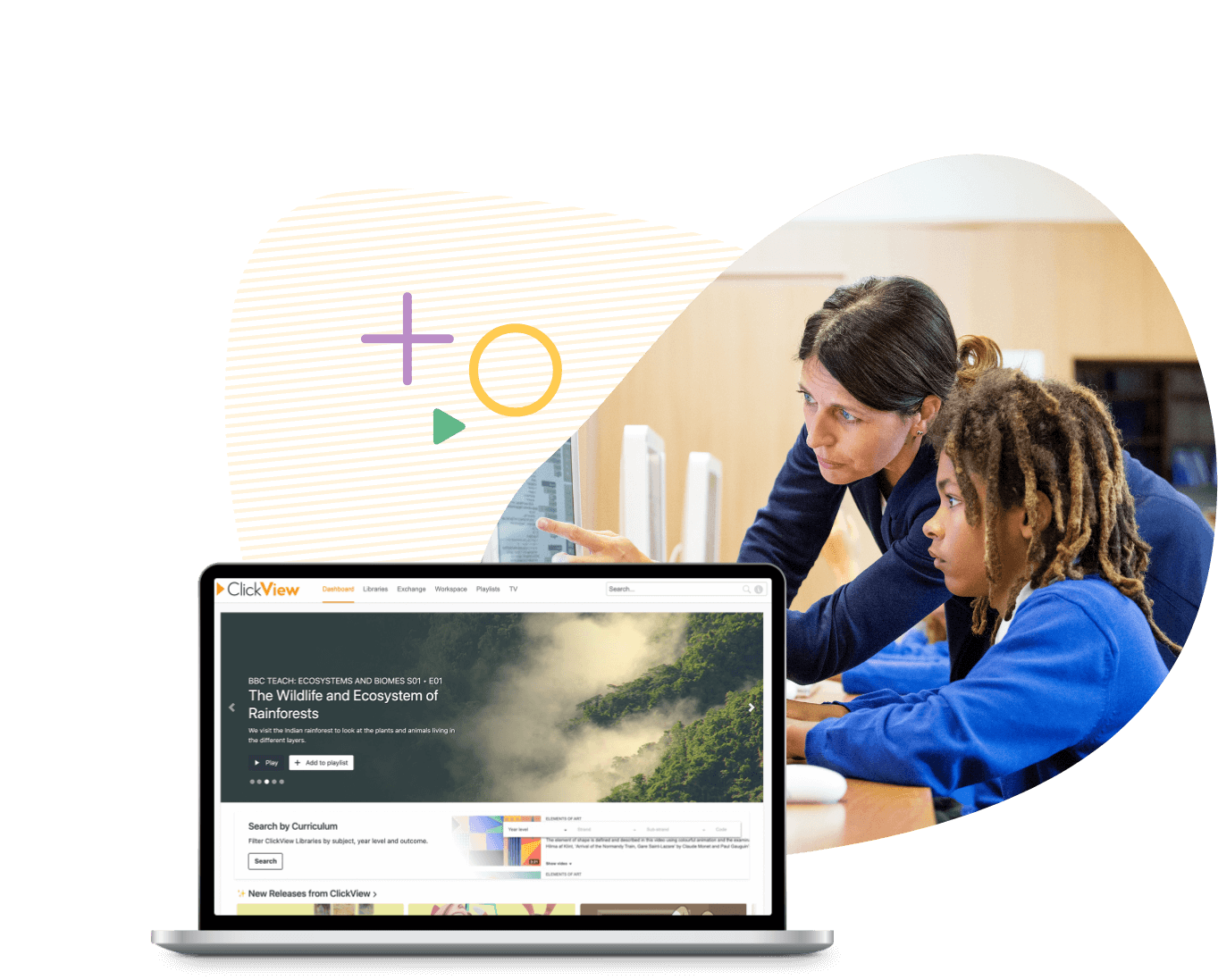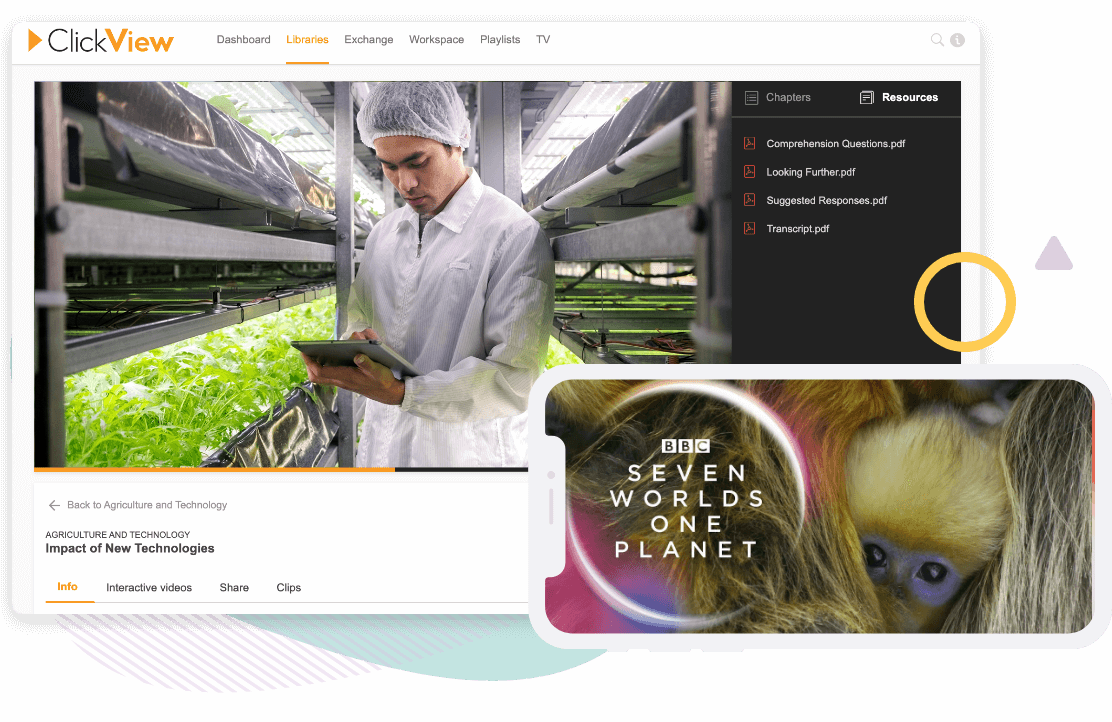 Why video?
Video improves recall, understanding and motivation
It shouldn't come as a surprise that students love video – social media like Facebook, TikTok and Instagram, and massive video platforms like YouTube dominate their social lives and leisure time.
But does it really work beyond remote learning?
Yes! The research confirms that video improves how learners receive and process information and engage with their subjects by bringing vision, sound and text together in an easy to consume way. Read our blog post to find out more.
Create engaging, informative lessons,
wherever your students are
Introduce new topics, inspire discussion, set relevant work using ready-to-download
resources and keep learners motivated using a medium they love.
ClickView makes lesson planning easy
Plan lessons in minutes with downloadable lesson plans, worksheets, class activities and quizzes
Set up libraries by topic or lesson with your favourite videos, interactive clips, lesson plans and worksheets so you can use them each year
Make watching a video an active experience when you introduce new topics or extend learning by pausing to ask the class questions, run a quiz or instigate discussions
Set extension work using ClickView clips and interactive quizzes for students to complete on their own devices in groups to leaves you free to deliver a differentiated learning experience for other students
Best of all – your students already love learning using video, so are sure to welcome it whether at home or in the classroom.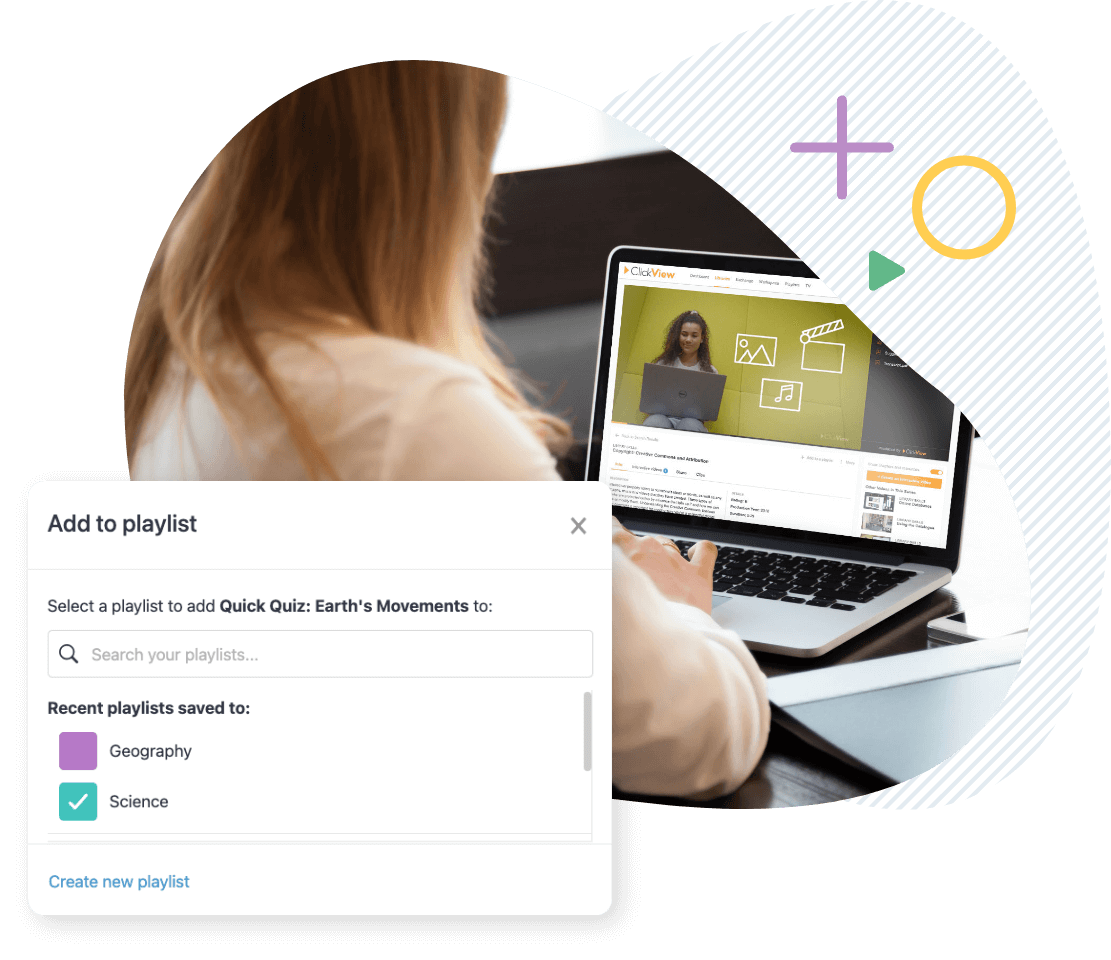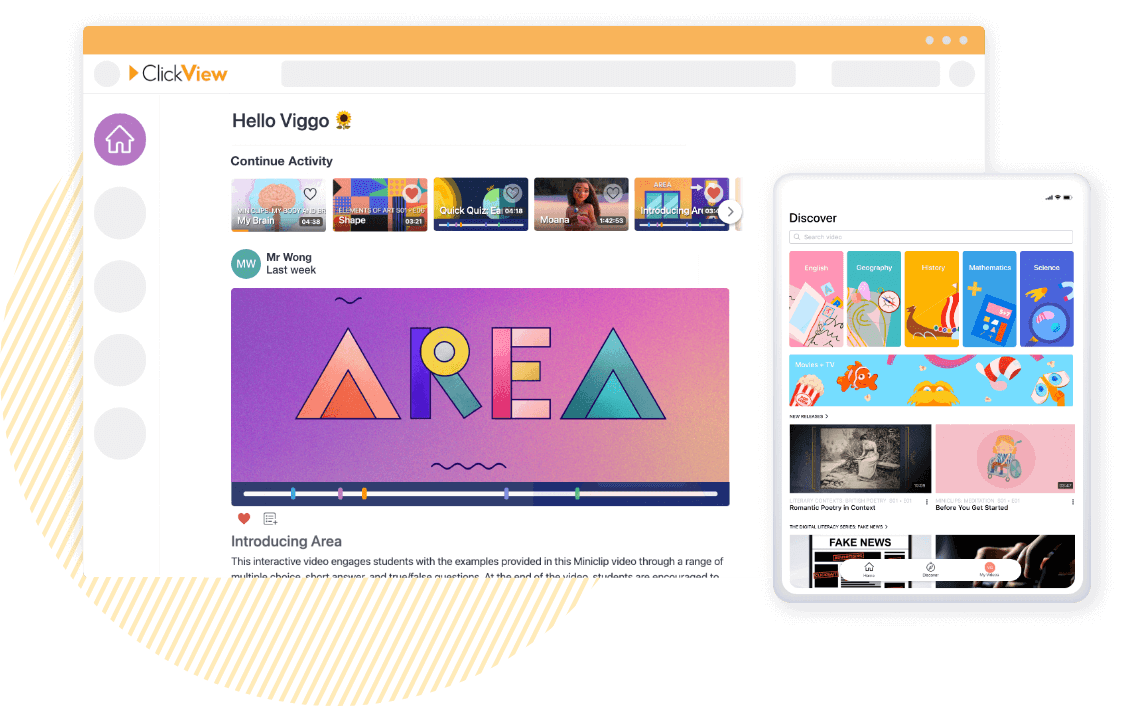 ClickView makes hybrid teaching seamless
Life will be disrupted for some time yet, so some schools are adopting a hybrid remote-in class teaching model to create a more consistent learning experience and keep staff and students safe.
ClickView can make this model operate seamlessly for your school by:
integrating with your VLE or LCS to deliver video content and quiz results without a separate login
giving students a familiar interface where they can easily find information, assessment tasks and videos
allowing you deliver classes on a single platform, whether your learners are in the classroom, at home, or both
ClickView makes formative assessments easy and enjoyable
What if formative assessments didn't have to feel like a burden – for students or teachers?
ClickView's interactives take the stress out of formative assessments by:
allowing you to insert multiple choice, true or false, missing word and even short answer questions into relevant points in a video or clip
testing student's knowledge and understanding of a topic or concept while they are watching a video
marking single-answer question types for you and providing in-depth analytics that combine viewing habits with engagement and quiz scores
Having formative assessments that are so quick to deliver and mark enables you to practice evidence-based teaching with little effort: just set the test, access the analytics suite for the results and plan future lessons to remedy knowledge gaps using our downloadable resources.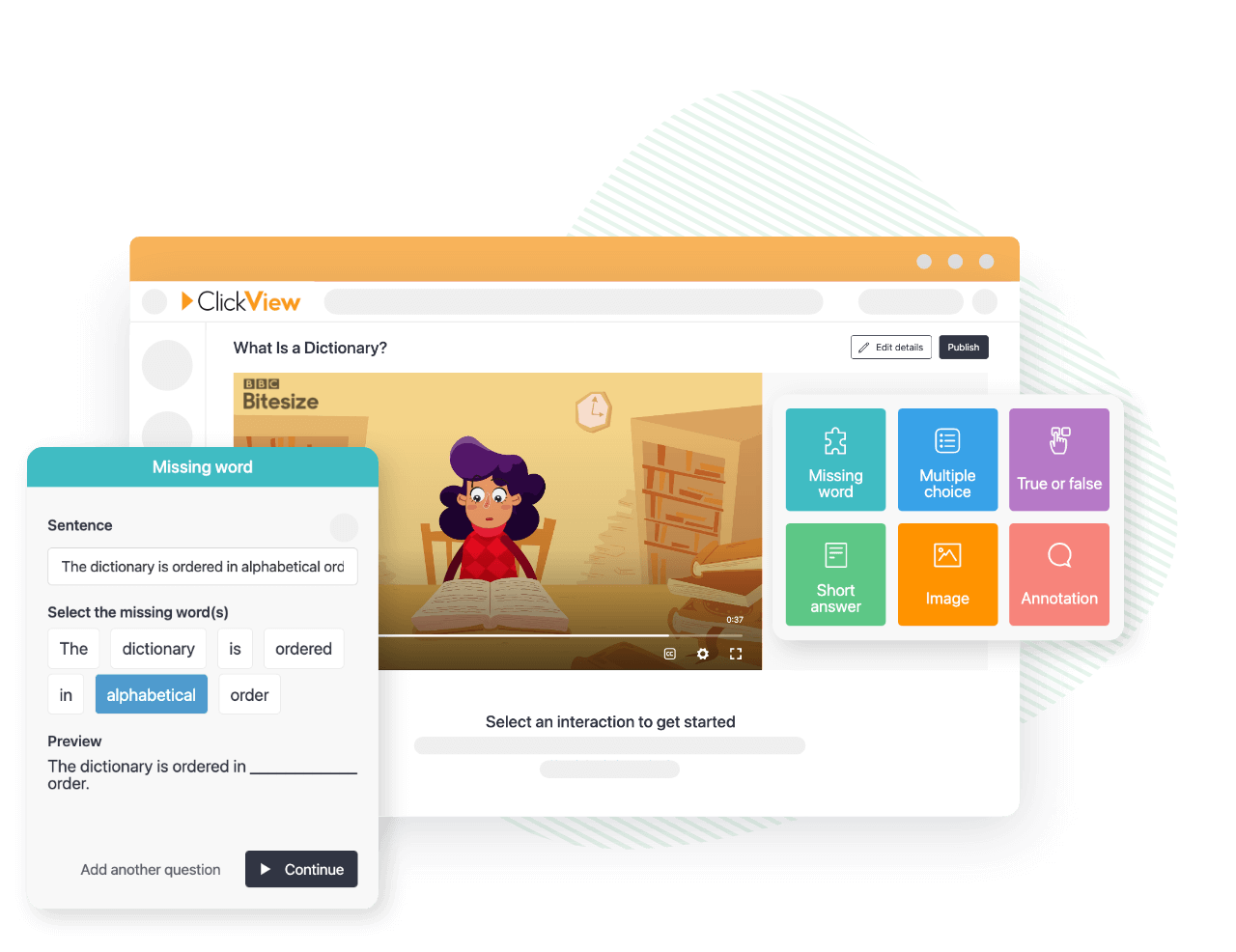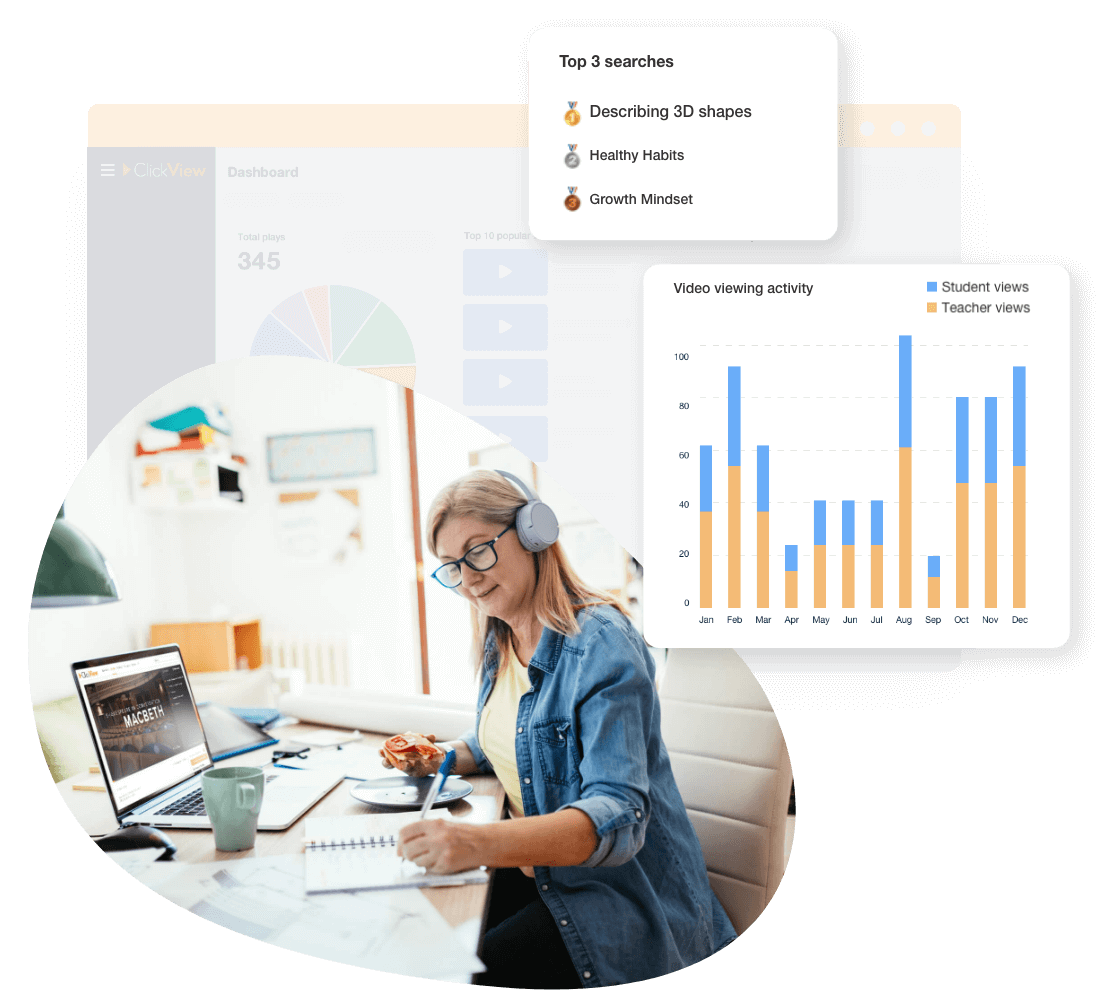 Switch on flipped learning in a flash for virtual and in-person classes
ClickView is the perfect tool for flipped learning as it:
offers simple clip editing and sharing options so you can set students a video or shorter clip with interactive quizzes for homework either via their VLE or the ClickView student portal
provides you with analytics that show which learning areas you need to spend time on in class
allows you to create a lesson plan that extends on the concepts explained in the video using worksheets and classroom activities devised by our education experts
ClickView's tools and resources are ideal if you're keen to try flipped learning for the first time, or when you are simply stretched for time during periods of remote learning.
ClickView has empowered educators and students worldwide with engaging video-led learning experiences.
Explore more testimonials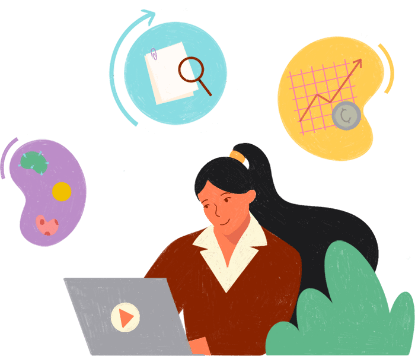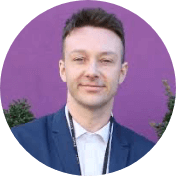 Scott Hayden
Digital Innovation Specialist/Lecturer Basingstoke College of Technology (BCoT)
"ClickView augments our brilliant teachers' use of meaningful flipped and blended learning opportunities across all subjects at BCoT."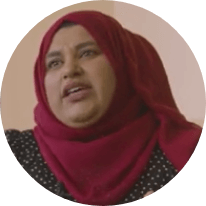 Yasmeen Naeem
Principal Teacher
Cramond Primary School
"Video content within the classroom is essential for our children these days, they're digital natives so they're used to the constant use of technology and we need to keep up with them and ensure their needs are met through technology."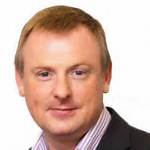 Jonathan Bishop
Headteacher
Broadclyst Primary School
"ClickView provides us with high-quality video curriculum content with built-in interactive quizzes, saving our teachers planning time, enhances lesson delivery and engages our learners."

What is formative assessment?
Formative assessment is an integral component of effective teaching at any level of learning. The goal is to collect detailed information that can be used to improve teaching and learning while it's happening. Formative assessment is used to inform in-process teaching and make modifications. This is in contrast to summative assessment, used to evaluate student achievement at the end of a topic or unit.
How can I formatively assess my students?
Formative assessment is integrated into the teaching and learning process. It can take many forms, such as in-class verbal or written questions or completing a self-assessment. While formative assessment can help teachers identify learning needs and concerns, it can also help students develop a greater understanding of their own strengths and weaknesses. This, in turn, helps them take greater responsibility for their own learning.
Formative assessment strategies for the classroom
Useful formative assessment strategies include:
Asking questions to individuals or groups (verbal or written)
Incorporating self or peer assessments
Using exit slips at the end of a lesson, to gather feedback from students on what they have understood or need help with
Creating interactive videos to gather student data about topic understanding
Identify knowledge gaps with interactive videos
As well as helping to address knowledge gaps, formative assessment can also help to refocus students on the value of the learning process. It can provide more information for students about learning expectations in a particular subject or topic area. It can also encourage them to build on their strengths, rather than focus on areas of weakness.