Blended Learning with video
What is ClickView?
ClickView is more than an extensive library of thousands of ready-made educational videos and curriculum-aligned teaching resources. A subscription also includes access to contextual broadcast TV, your own video content, shared libraries and formative assessment tools with reporting analytics. As a world leading blended learning resource, ClickView are proud to be sponsors of the Blended Learning Consortium.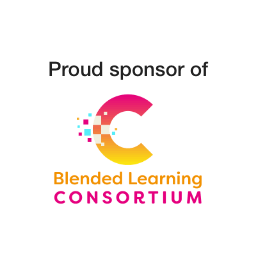 How does ClickView support blended learning?
Here are seven ways you can use ClickView to support a blended learning approach.
1. Curriculum-ready content
Our engaging instructional learning video content can help introduce new topics, scaffold learning and support knowledge consolidation. Share content with students via a ClickView link, Microsoft Teams, Google Classroom, your Learning Management System, or encourage them to lead their own learning
2. Resources, lesson plans and activities
Structure can be a challenge for blended learning. Every video we produce comes with lesson plan resources, including comprehension questions and student activities to complement your planning. Turn short videos into complete learning experiences.
3. Formative assessment with interactive video
Get immediate insights into student understanding through built-in analytics. Use ClickView's pre-built interactive video quizzes or add your own layer of questions. Comprehensive reports can help inform your future lesson planning and teaching.
4. Create your own content
Using a smartphone or computer, record lessons, activities and messages to upload to your Workspace. You can even add a layer of questions and annotations using the interactive tool. Build a playlist of resources for students or create a flipped channel.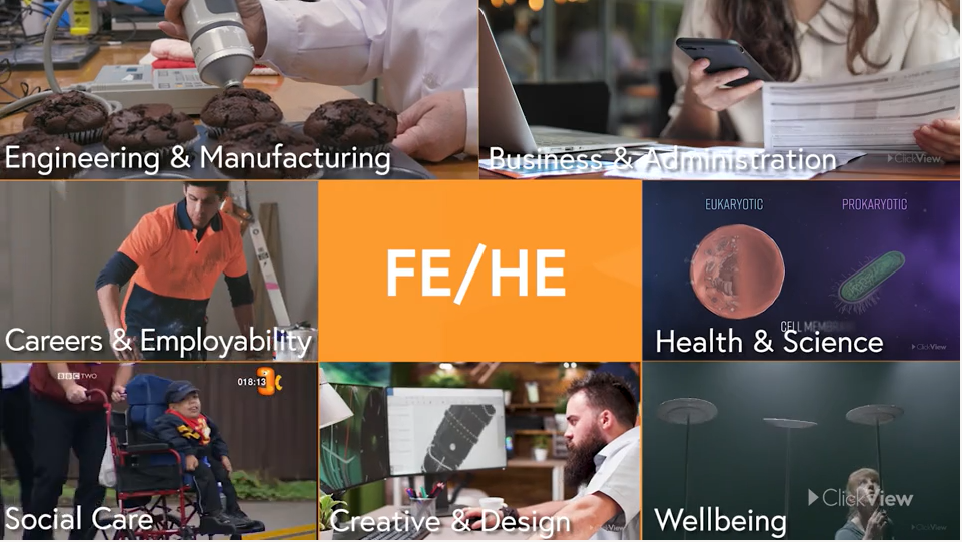 5. Playlists
Create and share playlists with students and colleagues at your school or college. You can quickly and easily use teaching and learning video, plus relevant broadcast TV content to provide a structured sequence of learning for your classes.
6. Get your students involved
Students can create their own videos and interactives to share with you and their classmates. They can submit a vlog or create a quiz in an engaging and collaborative format that can be completed anywhere at any time.
7. Apps and integrations
ClickView integrates with all major VLEs and has downloadable apps for all popular mobile devices. This means students and teachers can watch curriculum-aligned videos on any device, anywhere at any time even without an internet connection.
Try ClickView for free
'In the recent 2020 JISC Digital Insights Survey of FE learners, learners were asked what they find most useful online – 25% said course related video, and 25% said interactive polls and quizzes. ClickView provide educators with the opportunity to incorporate these aspects into their educational videos.'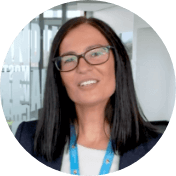 Amy Hollier
Head of Blended Learning
Blended Learning Consortium / Heart of Worcestershire College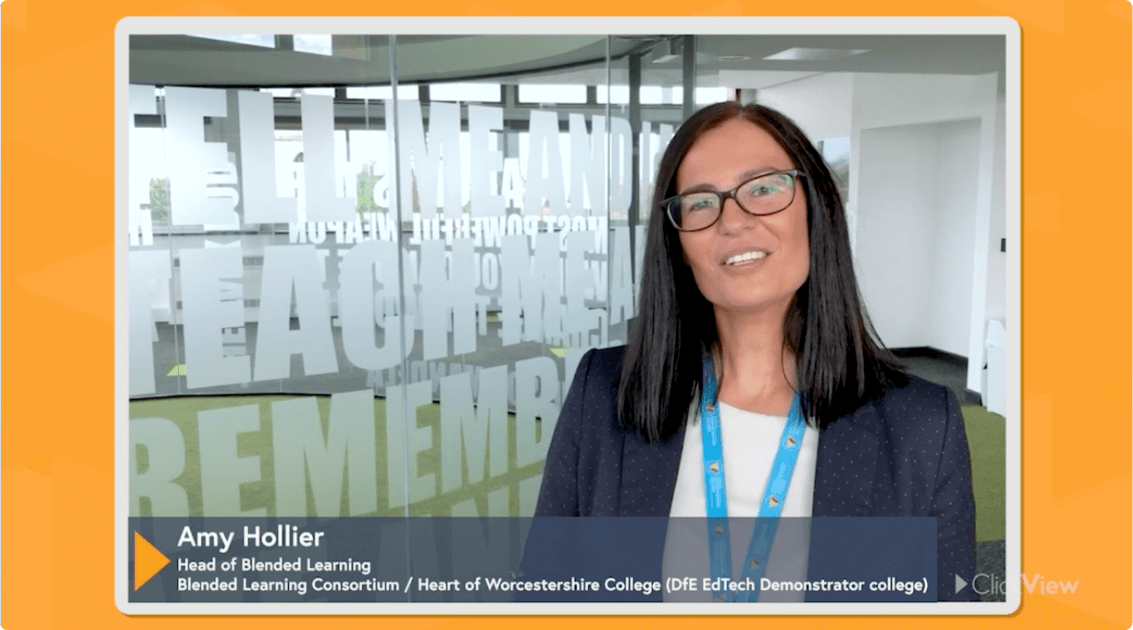 Our blended learning partnership with the BLC
We're proud to partner with the Blended Learning Consortium (BLC), to provide blended learning resources to further and higher education settings throughout the UK.
The BLC encourages a meaningful and considered approach to blended learning, one that adapts existing classrooms and systems, supporting schools to stay connected with students, parents and their staff. The flipped classroom model aligns with this approach, where students pre-learn new concepts at home, then come to class for hands-on learning, content exploration and guided practice.

What are the benefits of blended learning?
Less pressure on educators
There's less direct pressure on educators to present all the content. Instead they can facilitate and guide students through their learning.
Heightened student engagement
With a greater variation of activities during lessons and topics, students remain motivated and engaged in their learning.
Self-directed learning
Educators can empower students with the skills to use digital technology, so they can self-direct and self-pace their learning.
Access to analytics
Educators get insights into knowledge retention and understanding through built-in reporting and analytics. These insights can help inform lesson planning and teaching.
Why adopt blended learning today?
It's a great time to adopt blended learning in the classroom. Recent advancements in digital technology have made remote learning more engaging than ever before. These days, content delivery is often via rich media on personal devices. These devices are also used by students to create their own content, for collaboration and assessment.
The blended learning approach is also vital for developing soft skills and competencies. Students can develop skills in collaboration, critical thinking, communication, problem-solving and creativity, setting themselves up for careers in the workforce of the future.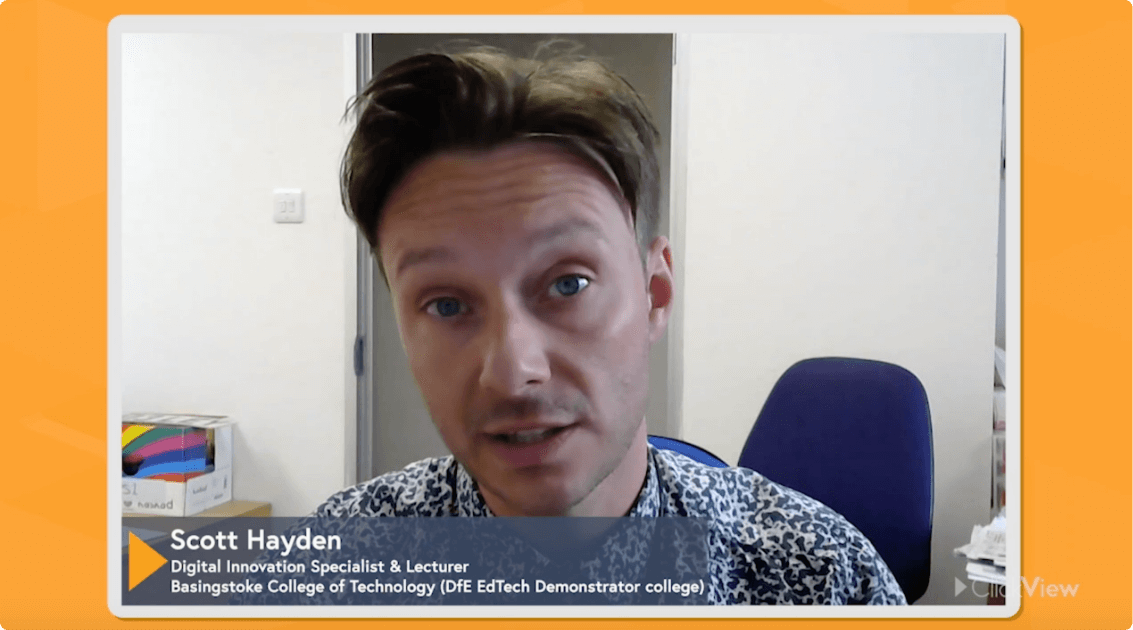 Best practices for blended learning
Blended learning, or hybrid learning, combines traditional classroom teaching with independent study and online learning. The blended learning approach moves education beyond the classroom to facilitate learning any time, from anywhere. Students have greater control over the pace, style and time of their learning, which helps to personalise the experience.
There's much more to blended learning than just moving face-to-face content online. It needs to be carefully planned and thought out to enhance the overall learning experience. Blended learning will look different in every classroom, as educators blend technology into teaching and learning in their own way. Technology shouldn't ever replace great work in the classroom; it should complement it.
Important considerations for successful implementation
Blended learning effectively redefines the traditional role of the teacher. It offers greater flexibility when it comes to delivery options with the focus on student understanding. Technology can provide teachers with valuable information on student progress, to inform face-to-face teaching. To successfully implement blended learning:
Choose the right platform with technology that works for educators and students.
Create a structured school day with breadth and depth.
Support staff, learners and parents through the process.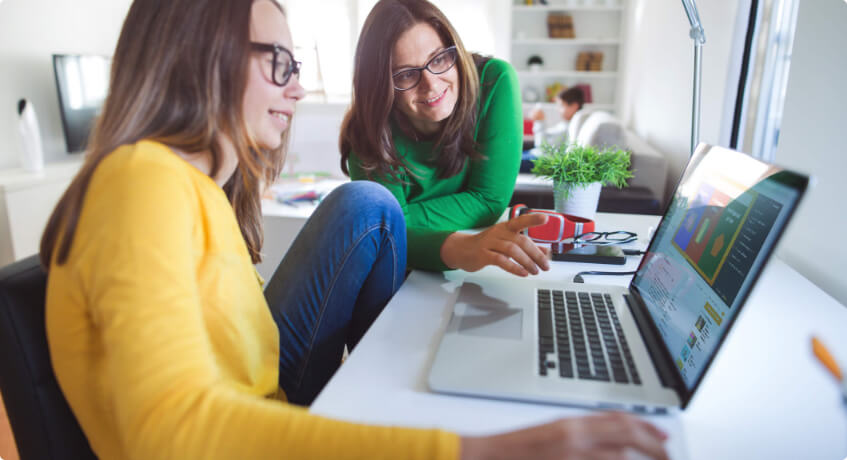 'ClickView augments our brilliant teachers' use of meaningful flipped and blended learning opportunities across all subjects at BCoT. Our teachers use ClickView to enhance learning for students by extending, consolidating and challenging learners on topics beyond the classroom. They connect sessions before and after traditional class-based lectures with relevant, interactive, self-marking videos that check and measure each learner's progress.'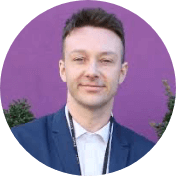 Scott Hayden
Digital Innovation Specialist/Lecturer of Creative Media Production
Basingstoke College of Technology (BCoT)